World Outdoor Ball Hockey Championship 2018
One of the biggest ball hockey tournaments in Ontario is upon us once again. The World Outdoor Ball Hockey Championship (WOBHC) in Barrie, Ontario is kicking off this Friday, September 21st and is running through Sunday, September 23rd. This tournament has traditionally been a major showcase of some of the top talent in North America, and this year is shaping up to be no different. With some big names across all divisions, this year's WOBHC looks like it's going to be quite the exciting event.
Men's A
Games officially kick off this Friday at the Barrie Ball Hockey Club and span across Men's A, B, C, and Women's A &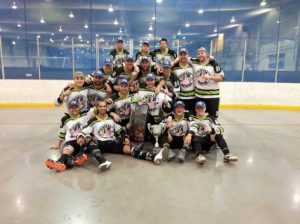 B divisions. The Men's A division sees some major players, coming out to compete like the Summer Premier League champs, the Niagara War Pigs. The Barrie Flyers and Barrie Hitmen will also be in attendance and will be looking to exploit their home-floor advantage. The Stoney Creek Savages will be returning this year and moving up to the A division. After taking home the title of Men's B Champs in 2016, they'll be looking to assert themselves as an A level team and improve upon their performance at the North American Ball Hockey Championships (NABHC) earlier this Spring. Finally, Penn Hills Arsenal will be coming out to make some waves and to demonstrate why ballhockey.com ranked them as one of the top 25 teams in North America.
The A division will be subject to four preliminary games. During the preliminary round, ties will not be broken, and four teams will move onto the semi-final games. Games that remain tied during the semi-finals will include a five-minute sudden death overtime before moving into a shootout. Any final games that are tied will continue until a winning goal is scored during a ten-minute overtime period. The A division schedule can be found right HERE.
Men's B & C
The lower tier is nothing to overlook this weekend, as there are over thirty teams in attendance! Because of the huge number of teams coming out for this division, the tournament is separating teams into B and C pools after the preliminary round. All thirty-eight teams will play three games after which the top sixteen teams will move on to the B elimination pool. Seeds 17-23 will move on to the C quarter final, thus eliminating any lower performing teams in the division.
With so many teams coming out, there's bound to be some exciting play this weekend. We're particularly excited to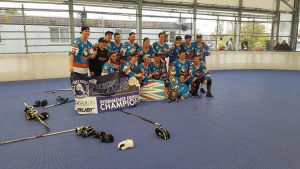 watch teams like the London Gulls, and the Hamilton Lightning take the floor, and we've started to see a bit of a rivalry form between the Hamilton Outlaws and the Southwest Cowboys (anyone else get flashes of The Good, The Bad and The Ugly when you think of the Cowboys taking on the Outlaws?). We're also excited to check out what the Niagara Falls Canucks and Niagara Nightmare will be bringing to the table. We wouldn't be surprised if one of the Niagara teams goes the distance, and it's always fun to watch two teams from the same area battle it out. Plus, with Toronto Big Bastone taking first place at this year's Ontario Ball Hockey Federation (OBHF) B Provincials, you know they're going to be aiming to maintain their rep, but let's not rule out the fact that a talented team like the Barrie Maple Kings will also have the luxury of playing on their own turf.
With a healthy selection of teams coming out of Hamilton, Barrie, and Niagara, we wouldn't be surprised if one of those regions ended up taking home the gold, but with this many lineups in the mix, it's far too early to tell which way the scales will tip. That doesn't mean we won't speculate, though. Check out the full Men's B & C schedule HERE.
Women's A & B
The Women's A & B divisions will operate much the same as the Men's B & C. All fourteen teams will play three preliminary games and will be separated into A & B pools depending on their standings. The top six teams will advance to the A playdowns, and the following six will advance to the B pool semi-finals. Two teams will be eliminated from this division, so even in the preliminary games, no one is going to be able to rest on their laurels.
There are teams coming out from all over Ontario, but a good chunk of them seem to be coming out of the Niagara and Toronto regions. We anticipate some exciting games, especially out of heavy hitters like the Niagara Beastie Bitches and London Norstar. We've heard rumblings that Toronto Team Name and Ontario Panthers could be potential contenders, but having never had the opportunity to see them play, we're just going to have to keep an eye on them. You can check out the full Women's A & B schedule right HERE.
With teams of these skill levels coming out for the tournament, you can expect some action-packed displays. If you're in the Barrie area over the weekend, make sure to stop by the Barrie Ball Hockey Club to take in some of the world class games.
---
As always be sure to check back with Stick Skillz for more WOBHC coverage, and don't forget to follow us on Facebook, Instagram, Twitter, and YouTube so you don't miss a minute of ball hockey action!