I love hockey.  Actually, I'm obsessed with hockey.  It encapsulates everything I love about sports; intense competition, athletic ability and it's the most entertaining sport, period.  The other thing I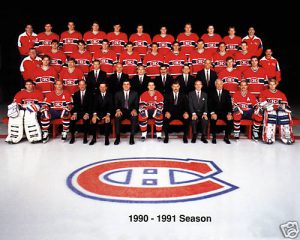 love about hockey, is that it doesn't need to be played on ice and it's still just as awesome.  I'm not a naturally gifted athlete; just watch me run and you'll understand, but I do have the cliched 'hockey sense' you often hear coaches and players talk about.
As far back as I can remember, I've always had a knack for hockey.  It started with memorizing every player on the Montreal Canadiens '90-'91 roster and grew from there.  Soon, I was able to tell you what position everyone on the team played and how they were supposed to play it.  I could predict how a play was going to unfold based on the team's breakout; if I saw a defenseman pinch in from the point, I knew that the winger had to fall back and cover him.  Like I said, I was obsessed and naturally, I wanted to play hockey.  I was a fantastic skater and I felt that I could be a really fantastic hockey player.  When I broached my mom
with the idea of me playing house league hockey, she laughed at me.  Not only were there very few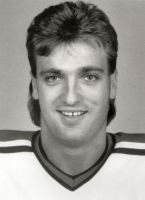 house league teams available for girls back in the early 90's, it was extremely expensive and my mom told me we simply couldn't afford it.  I was dejected; all I wanted to do was play hockey like Kirk Muller or Stephane Richer.
My sisters and I would play pond hockey with some of the neighbourhood kids and, truth be told, I wasn't very good.  I had the skating ability and the hockey knowledge, but I couldn't put the two of them together well enough to be a good ice hockey player.  Once again, I was dejected.  I love the game of hockey so much and I know SO much about it but I stink!  I resorted to watching hockey religiously and learning all I could about the game; maybe one day, I'd be the first female NHL Head Coach!
It wasn't until the 8th grade that the opportunity to play hockey came around for me but this time, it wasn't on the ice.  My grade 8 teacher, Mr. Blago, was a huge hockey nut and he was also one of the biggest inspirations in my life.  In the middle of the school year, he started a small floor hockey league that would play during lunch time recess.  The league would have two teams, made up of grade 7 and 8 students.  He handpicked the kids that would be on these two teams, most of which had been playing organized hockey since they could walk.  Imagine my surprise when he handed me a stick and told me I was going to play.  It was amazing; I could play hockey, with the boys, and all I would need is a plastic stick and my running shoes.  Without having to skate and stickhandle, I was a whiz out on the floor and I was going toe-to-toe with the boys.  I was hooked; I knew that I needed to find a league and keep playing.
I continued to play pick up games in gyms and I played a ton of street hockey but it wasn't until I was in college when I discovered rec leagues that offered floor hockey.  I started off playing rec level 4-on-4 co-ed in school gyms.  After a few seasons, I felt I needed a league that was more competitive, more like 'real' hockey.  After some research, I found a competitive ball hockey league in Guelph called Royal City Ball Hockey.  It was 5-on-5, played on a regulation sized rink where you

needed an actual composite hockey stick and hockey gloves.  I was in heaven!  This was the closest I could get to feeling like an actual hockey player without stepping out onto the ice.
For the last 4 years, I've played with the same all-women's team and in the same league.  There are 12 women's teams in this league and all 12 of them are highly skilled.  The games are intense, the battles are heated and sometimes, it gets a little nasty out there—just the way I like it.  It's basically been the same women on the same teams over the last 4 years and naturally, rivalries have been made and superstars have been singled out.  In short, these women, ranging from college kids to grandmothers, are phenomenal hockey players.  Some played at collegiate levels and some just have a knack for it but every single one of them can play.  Guelph isn't the only city that has talented, female ball hockey players; it's just one of the few places that has a highly competitive, ice-hockey style league for women.  Therein lies the problem.  There are hundreds of extremely talented female ball hockey players in Ontario who currently aren't playing organized ball hockey because quality leagues are hard to come by.  When you search 'ball hockey Ontario' online, you'll see plenty of leagues for men and youth but you'll see very few options for women and girls.  It's the main reason I still play in Guelph, even though I've lived in Hamilton for the last year and a half.
We've made great strides in women's ice hockey.  In fact, before my ball hockey game last week in Guelph, there was a girls ice hockey team practicing a controlled breakout on our rink.  It was awesome to see these girls being taught the nuances of the game in order to help them during their season.  We need more of that.  There should be the same options and resources for women who want to play because they're really, really amazing; they just need the opportunity to show it.
---
Thanks to our good friend Tammy Allen for penning this great article on the future of women's ball hockey. Be sure to keep up on the great stuff she's been doing at Leftturn.ca, and follow her on Twitter, Instagram and Facebook.
For all the latest in the world of ball hockey, stay tuned to Stickskillz.com, and don't forget to follow us on Twitter, Instagram and Facebook for up to the minute developments!