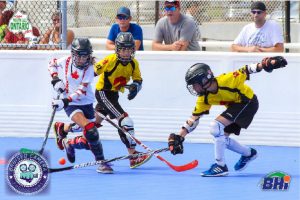 BRANTFORD, ON—Monday, August 15, 2016—It was a hot and rainy weekend but that didn't stop the best in Ontario from competing at the Youth All Ontario Cup (YAOC) Weekend of Champs in Brantford, ON.  A total of 13 teams spread across 4 divisions braved temperatures of 40 degrees celsius, all in the name of victory.
ATOM DIVISION
The youngest division consisted of 2 teams, the Hat Trick Heroes and the Brantford Little Swat,  as they duked it out for ball hockey bragging rights.  The Hat Trick Heroes put up a good fight but the Little Swat swept the series, winning all 3 games in the tournament.  Adam Jack led the Little Swat with 6G, 3A in 3 games while goalie Justin Gray shut the door, making 39 SV on 45 SA for a .866 SV%.
PEEWEE DIVISION
The Peewee Division was made up of 5 teams with the London Kamikaze beating the Pilons in the Championship game by a score of 3-2.  The Kamikaze and Pilons were the two most dominant teams in the tournament, scoring a total of 37 and 51 goals respectively.  Logan Ferreira was a standout for the Kamikaze, netting a total of 3G, 11A in 6 games while goalie Zack Saraiva shut the door, finishing with 2 shutouts and a .913 SV%.  The Pilons had a superstar of their own as Roj Abdullah finished the tournament with 12G, 4A in 6 games.  The Pilons dominated every opponent they face but just couldn't overcome the Kamikaze's defense.
BANTAM DIVISION
4 teams made up the Bantam Division at the Weekend of Champs and they did not disappoint.  The Welland Rebels were the eventual champions, beating the Bandits 4-2 in the final game.  Eric Joyce had a strong tournament and ended up with 3G, 2A in 5 games.  The Rebels were the only team in the division to go undefeated in the tournament.
MIDGET DIVISION
There were plenty of fireworks in the Midget Division as it was a 2-horse race between the Welland Knights and the Cherry Pickers in the battle for ball hockey supremacy.  The Knights boasted a strong roster with the likes of McKenzee MacQueen and Noah Caperchione but the Pickers had stars of their own and gave Welland all they could handle.  The first game was tightly contested and needed overtime to determine a winner and in the end, the Welland Knights swept the best-out-5 tournament, 3-0.  MacQueen had a good tournament, finishing with 1G, 4A in 3 games and Noah Caperchione had 3G, 2A.  Knights goalie, Daniel Van Alstine had a strong tournament, posting a .907 SV%.
Next up in Brantford with be the All Ontario Cup (AOC) September Shootout September 9-11.  Registration deadline is September 3rd, please contact [email protected] for details.