2016 North American Ball Hockey Championships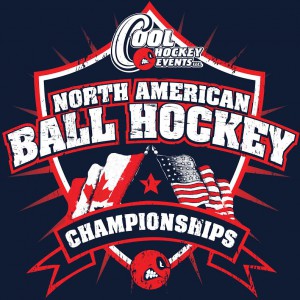 This coming weekend will pit some of the best teams in North America against one another at the North American Ball Hockey Championships. The tournament begins this Friday, April 1st and ends on Sunday, April 3rd. This weekend's event features Men's A-B divisions and the Women's A-B divisions.
Ball Hockey International Tournaments
Spring Teaser Youth Ball Hockey Tournament
BHi St. Catharines will host their second tournament of the year April 8th-10th. This tournament is the opening event for the 2016 Youth All Ontario Cup. The tournament consists of 4 divisions ranging from Atom all the way to Midget. The winners of each division will receive their choice of sublimated jerseys, sublimated warm-up shorts and shirts, a Bauer equipment prize pack or hats and sublimated sweatshirts.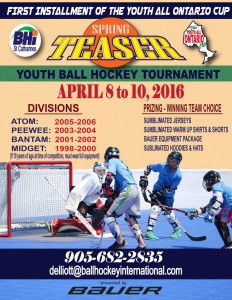 April Fools Tournament
BHi London in partnership with the Ontario Ball Hockey Association (OBHA) host the second event of the All Ontario Cup, the April Fools tournament. The tournament takes place from April 22nd-24th. Much like the BHi St. Catharines' Spring teaser, a number of different divisions will be offered for teams of varying skill levels.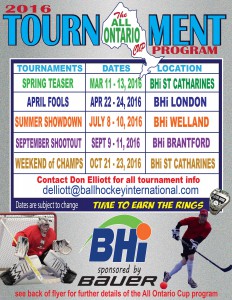 Have any tournaments you would like to promote? If so email [email protected] and we will feature your tournament on our website and social media accounts!