The North American Ball Hockey Championships (NABHC) are here and Stick Skillz is fired up to see who will come out on top at 2018's first major North American tournament.
The Games So Far – Men's C/D, Novice, Rec, & Co-Ed A/B Divisions
Officially, these championships kicked off March 9-11 with the Men's C/D, Novice, Rec, and Co-Ed A and B divisions facing off in Trevose, PA.  We would like to offer our congratulations to the following division winners:
Men's C – Slothfathers (defeated the Demons 3-1)
Men's D – Blitzkrieg (defeated Jersey Fresh 5-4)
Men's Novice – Long Island Clippers (defeated North Hills 4-2)
Men's Rec – Wizards Black (defeated DC Surge 4-0)
Co-Ed A – Balls & Dolls (defeated Stars & Stripes 4-3)
Co-Ed B – Demons (defeated DC Venom 2-1)
Next up are the Men's A/B and Women's A/B portions of the NABHC, taking place March 23-25 in Trevose, PA.
Men's A Division
2017 saw the Pittsburgh Gods take home the A Division with a convincing 5-0 win over the Ottawa Godfathers.  As usual, you can expect the Gods to be in the hunt for the 2018 crown.  In fact, the perennial favourite has won four NABHC over the past seven years, and we're sure they would like to make it five.
The Favourites
Standing in the Gods way this year will be a mix of very formidable teams who all have shot to take the 2018 crown.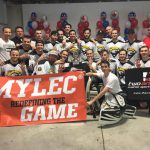 This experienced mix have all played at this level before and have had a taste of success.  The contenders are (in no particular order):
Godfathers (Ottawa, ON)
War Pigs (St. Catharines, ON)
Fusion (Buffalo, NY)
Arsenal (Penn Hills, PA)
Teams to Watch
In addition to the teams listed above, there are a few other attendees to watch out for this year.  First and foremost are the Boston Saints.  The Saints are currently ranked second in the US by Coolhockeyevents.com, and number five in North America by Ballhockey.com.  They will be looking to bounce back after a disappointing 2017 tournament.  Additionally, we'll be keeping an eye on the former US National Champs, Leominster Americans.  Our sources tell us that the Americans are coming into this year's tournament with a collaborative team that also features players from the Leominster Rams.  This has the potential to be a very powerful team.
Previous A Champs:
2017 – Pittsburgh Gods over Ottawa Godfathers
2016 – Niagara War Pigs over Boston Saints
2015 – Pittsburgh Gods over Buffalo Fusion
2014 – Leominster Blackhawks over Pittsburgh Gods
2013 – Pittsburgh Gods over Midnight Express
Men's B Division
The B Division was incredibly competitive last year with the Graffix (Phoenixville, PA) taking the B championship with a close 1-0 victory over Hull Volant (Ottawa, ON).  We're expecting more of the same in 2018 if a number of the teams return.
The Favourites
We see no reason not to expect a similar performance from Graffix and Hull Volant however, Killer B (Buffalo, NY)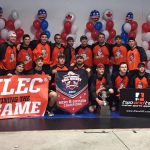 and the Rage (Rhode Island, NY) both played very evenly matched games against Graffix and the Volant throughout the round robin and playoff rounds.
Team to Watch
As we mentioned before, the Men's B Division was incredibly close in 2017 and because of this, we advise you not to take the East Coast Empire lightly in 2018.  They finished the 2017 round robin as the third seed and are currently ranked as the number twelve team in the US by Coolhockeyevents.com.
Previous B Champs
2017 Graffix over Hull Volant
2016 – Jersey Fresh over Toronto Rage
2015 – Niagara War Pigs over Jersey Fresh
2014 – Niagara War Pigs over New Jersey Avalanche
2013 –International Shout Out over PJT
Up Next: NABHC Tournament Preview – Women's A & B
This is just a portion of the action that's going to be taking place in a few weeks in Trevose. We haven't touched on the Women's A/B divisions, but we're equally excited about them, so we'll be saving our thoughts for a second preview to go up next week. Stay tuned!
---
For all the latest in the world of ball hockey, keep your eyes on stickskillz.com, and don't forget to follow us on Facebook, Instagram and Twitter for all up to the minute developments. Want to see stories like this delivered right to your inbox? Sign up for the Top Cheddar, our free monthly newsletter by clicking here.