At the time of this article's inception, we were convinced it was going to be about the shake-ups happening across the teams in the Ontario Tier 1 League. We had heard rumblings that there was going to be a lot of player movement between teams and a good amount of change across the division. To our surprise, what we found was very little "shaking-up," as it were, of Tier 1 players, and that with a few exceptions, most teams were going to stay largely the same.  So instead, what we're writing about is our expectations for the league, which teams we think have the strongest chance of winning, and what the other teams can do to combat them. That's right, it's a Tier 1 Fall season preview, baby!
Last summer, there were ten teams competing in tier 1. Last fall there were seven, and this year there are only six teams competing. Part of this drop off can be attributed to the fact that the Niagara Rebels, Toronto Rage, and Brampton Phenom Jets never play fall, and only compete in the summer months, but the Richmond Hill Falcons have also chosen not to play in this season. One might think that fewer teams means less competition, but in our experience, this isn't necessarily true. This gives the teams a chance to really get to know each other, which could lead to some truly excellent games of hockey.
As we mentioned earlier, initially we had expected there to be some teams moving and some players shuffling around. While there were some moves (Bryan McGahey and Dan Ruddach of BHi's Great Britain Heritage Team appearing on the Niagara War Pigs), most teams will be sticking with their current roster. What does add some gravity to the games, is that the winner of the fall session gets a bid in the 2018 Provincial Qualifier, and the winner of the Qualifier goes on to the 2019 Nationals. This means that an already highly competitive group of players are going to be butting heads to make it to one of the biggest tournaments in the sport. It's safe to say that you can expect some incredible games out of this division, and more than likely some unbelievable and triumphant stories.
Niagara War Pigs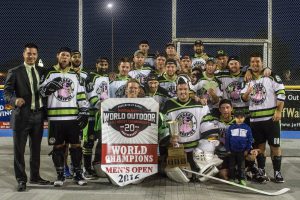 The Niagara War Pigs have already had an impressive showing this season, winning all four of their games played. The synergy on display with the team means that the players are all communicating expertly, and makes them a force to be reckoned with. Marshall Boyes is leading the charge with eight points in the four games played so far, with no signs of stopping, and their goalie, Bram Leggatt has been killing it with only four goals against.
Metro Orangemen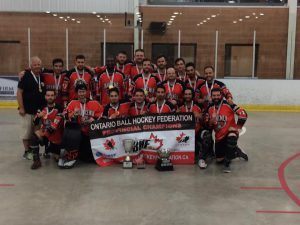 The Metro Orangemen have had a terrific year already, but as the defending champions of last year's tournament, they'll have everybody gunning for them. They're so far holding it down in second place with a total score of six points. Both Eric Camara and Ricardo Pires have been leading the charge for the team, each with an impressive seven points so far, but not far behind is Chris Creador with six points. The team's only goalie, Paul Zarnett has been keeping up the energy during the four games already played, with a GAA of 4.50, but with other teams keeping the Orangemen in their sights, he'll have to stay vigilant if they plan to take the championship again.
North York Hitmen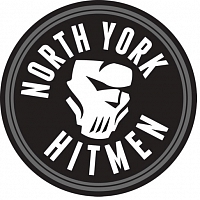 The North York Hitmen are keeping their cool as they currently sit in third. Having won two of the four games played so far, there's still a chance that they can turn it around and become real contenders this season. Both Vincenzo Delia and Jonathan Pulicicchio have been putting forward some good play with five points so far in the season, and goalies Matt Stuart and Dave Clark have been performing well, each with a GAA of 2.00. The Hitmen's third goalie Franco Scipone is currently rocking a GAA of 5.5, but there's still time to turn it around.
Brampton Express
The Brampton Express are perennial favourites and roll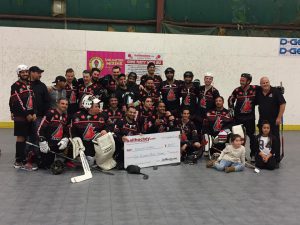 into the Fall Season with the bitter taste of falling to the Metro Orangemen in the Summer Season finals on their minds.  However, the fall Express are not the same team that finished 10-4 last summer as they are missing four of their top scorers from last season.  This season they'll lean heavily on the likes of Shawn Hannon, JC Gill, Marquis Mentis, and Adam Bevilacqua to carry the offensive load.  In net, Arjua Khela fills the void for an absent Dave DiGironimo.  These will be big shoes to fill for Khela as DiGironimo was one of the top netminders in the league, finishing summer season with a 13-7 record and a nifty 2.65 GAA.
Vaughan Red Wings
The Vaughan Red Wings roll into fall after finishing last season with a respectable 8-6 record.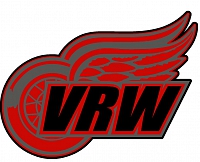 The Red Wings would advance to the semi-finals before falling to the eventual champion Metro Orangemen.  Offensively, the Red Wings will continue to lean on the trio of Frankie Giustini, Chris Monaghan, and Matt Martello to lead the way.  In order for the Red Wings to take the next jump, they will need a strong secondary effort from Massimo Prinicipe, Jordan Bumeliani and Shawn McCalla to give them atleast two lines that can put the ball in the net.  On the back end, veteran goalie, Anthony Flores returns.  Flores finished last season with a 9-4 record and a 3.41 GAA; when he's on his game, he can be a difference maker.
Barrie Flyers
The Barrie Flyers finished the Summer Season with a 5-9 record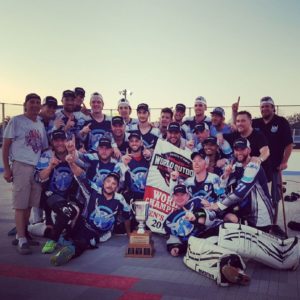 and just squeaked into the playoffs before being dispatched by the Metro Orangemen in the quarter-finals.  The Flyers do not score a lot of goals and they are missing two of their more offensive players in Trevor Broley and Jason Binnie this fall.  The Flyers can count on the continued offensive contributions of Krystian Yorke, who remains a force on the squad, and are looking for Cory Wick to support Yorke this season.  Combined with returnees Tyler Yerex, David Pryke, and Randy Kelly, the Flyers are hoping to find some added offence.  The Flyers have also struggled to find a consistent netminder.  Alan Henderson returns this fall to take the number one job from an absent Tyler Richardson.  Henderson finished the summer season with a 2-4 record and a 2.89 GAA. However, the Flyers are recently coming off of their 2017 World Outdoor Ball Hockey Championships this past month in Barrie, Ontario. Can they ride that high through this season, and continue to shock the ball hockey world?
Who Will Take it This Year?
The Metro Orangemen will be defending their title as last year's champions. The question is, can the Brampton Express bounce back after losing to them in the finals. The Express have proven themselves as a power-house team, having won the previous two seasons, but had somewhat of a poor showing at this year's Nationals. Of course, there's always an opportunity to make a recovery, but they'll really need to up their defense if they're going to do it. The Orangemen are an aggressive team who aren't afraid to take their shot, so the Express' goalie is really going to have to be light on his feet if the team is going to make a comeback. With that in mind, the Niagara War Pigs have really been on their game this year, and look like they have a really strong chance of walking away as this year's champions. Or, will the Barrie Flyers rise from the fold once again to reign supreme, as they did in Barrie.
Regardless of who is most likely to win the bid at the Provincial Qualifier, this season is going to be an exciting one. We can't wait to see what kind of games are going to come out of this division. Will Metro be able to defend their title? Will the Express reclaim it? Maybe another team altogether will swoop in and claim the spot for themselves. Whatever happens, it's going to be a hell of a ride, and we'll keep you updated as the season pans out.
For all the latest updates in the world of ball hockey, stay tuned to Stickskillz.com, and don't forget to follow us on Facebook, Instagram and Twitter for up to the minute developments!