With the World Ball Hockey Federation (WBHF) Championships underway in the Czech Republic it's easy to overlook the fact that there are three big tournaments happening June 23-25, 2017 in North America.  South of the border, ball hockey fans can catch some top caliber action at the Sunshine Shootout in New Port Richey, Florida; or a little further north, the USA Nationals will be underway in Leonminster, Massachusetts.  A little bit closer to home, Brantford, Ontario will host the Elmer McMann Cup.
Sunshine Shootout – New Port Richey, FL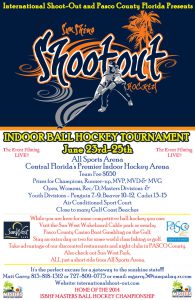 From June 23-25 some of North America's premier ball hockey teams will descend on All Sports Arena in New Port Richey, Florida for the Sunshine Shootout.  Divisions being represented at the tournament are:
Open
Women's
Rec/D
Masters
Penguin (7-9)
Beaver (10-12)
Cadet (13-15)
The event is free for fans to attend and everyone in the area should make a point to get down to the All Sports Arena and catch teams from all over the world as they compete in this international tournament.
All Sports Arena – 7716 Rutillio Ct.  New Port Richey, FL  34653
USA Nationals
Also taking place this weekend are the USA Nationals for the Women's and Masters Divisions in Leominster, MA.  This event is happening at the Leominster DekHockey Center (LDHC), which is the oldest street hockey/dekhockey center in North America.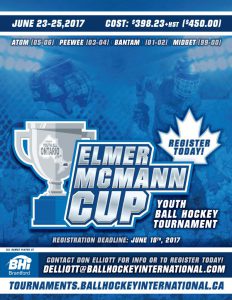 Leominster DekHockey Center – 56 Mead St.  Leominster, MA  01453
Elmer McMann Cup
North of the border we have the Elmer McMann Cup in Brantford, Ontario.  This is the second installment of the Youth All Ontario Cup Program (YAOC), sponsored by Bauer.  This will be the final tune up before the OBHA Provincials in July and will feature Atom, Pee Week, Bantam, and Midget divisions.
BHi Brantford – 12 Edge St.  Brantford, ON  N3T 6H1