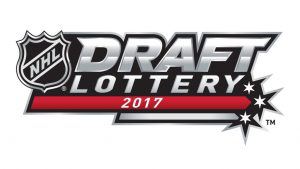 We sure didn't see that coming!  As always, the NHL Draft Lottery leaves teams and fans running the full gamut of emotions.  I some cases, everything works out exactly as planned like it did for the Leafs in 2016, and sometimes it can go all wrong … so wrong.  Last Saturday's 2017 NHL Draft Lottery was no different; here are the details.
The Winners
The New Jersey Devils were the big winners at Saturday night's NHL draft lottery, securing the first overall pick in June's NHL Draft.  The Devils came in having finished 27th overall in the regular season with a 28-40-4 record giving them an 8.5% chance of landing the top selection.
Although the Devils were the big winner of the night, the Philadelphia Flyers were the biggest movers.  The Flyers came in with just a 2.2% chance of winning the top pick, and they ended up with the number two overall selection.
The Winners: New Jersey Devils, Philadelphia Flyers, Dallas Stars
The Losers
Conversely, it was not a great night for the Colorado Avalanche, who came in with the best chance of receiving the first overall pick at 18% odds, but fell to fourth.
It was also a tough night for the Vancouver Canucks who dropped in the lottery for the second consecutive year.  Although they came in with the second best odds of the night, behind the Avalanche, they will once again select fifth overall.
The Losers: Colorado Avalanche, Vancouver Canucks, Vegas Golden Knights, Arizona Coyotes.
Players Up For Grabs
It is a pair of centres that everyone will have their eyes on in June.  Nolan Patrick of the Brandon Wheat Kings (WHL) and Nico Hischier of the Halifax Moosheads (QMJHL) are the top two rated North American skaters heading into this year's draft according to NHL Central Scouting.
Full Results