The London Gulls are positioning themselves to be one of the next great teams in ball hockey. Out of twenty games played this year in their Tier 1 C division, the Gulls have won seventeen for a total of thirty-five points. This sparkling record was enough to catch our attention, so we thought we'd sit down with the boys from the Gulls to ask them a few questions about the success they've had, and where they see the team going from here.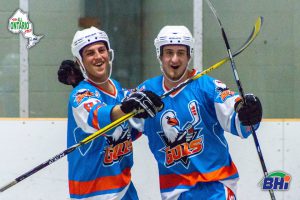 Stick Skillz: How did the Gulls come to be formed?
Gulls: We started out playing in the London Minor Ball Hockey Association (LMBHA) together. Eventually, after becoming a strong force throughout the league, we began to be split over a bunch of teams instead of playing together. We finally decided to enter the London Ball Hockey Association (LBHA) men's league in 2013 as Easton-Fection. We played 4 years together before finally revamping and becoming the Gulls previous to this up-coming season.
SS: Why 'The Gulls'? What's the significance of the seagull?
G: There isn't really much significance behind the Gulls. When we were thinking of creating a new team, we already had set out that the orange/blue/white colour scheme would be our team colours. After a few drinks and a couple of Google image searches, we found the Gulls logo and automatically fell in love. The rest was history.
SS: Does anyone on the team have any ice hockey experience or an ice hockey background?
G: Most of us have played minor hockey throughout the years together. About half of us went on to play a few years at the Jr. C level for different teams.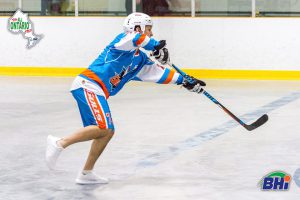 SS: What is it that draws you to ball hockey?
G: Obviously we all love ball hockey, but I think the main reason we are all so attracted to it is because it gives us a chance to play at the competitive level with all of our best friends. We all got split up to different junior teams, but ball hockey gives us the chance to all reconnect again and hang out with the boys.
SS: What is it that excite you the most about ball hockey?
G: The thing that excites us the most about ball hockey is that there's so much out there to look for competitively and get our name out there. We don't really know how big we can get, but we're all committed to getting our name out there while having as much fun as we can.
SS: What are the greatest challenges facing your team?
G: Biggest learning curve we're facing is just learning the experience of everything. At the end of the day, we're all still pretty much kids and have a lot to learn, but we take from every experience and try to learn from it the best we can.
SS: You are on quite a roll this year from leagues to tournaments. You continue to climb the ranks and divisions that you compete in from Tier 3 to 1 in league, and Rec to Intermediate/B in tournaments. What do you think this level of success can be attributed to?
G: We have had quite the successful year. Unfortunately, in both tournaments we have just come up one win short in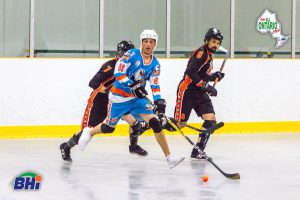 the end, and recently just lost an amazing series to the Outpatients in three games. While we would have liked to have walked away with a few more titles, we understand that everything is a process and a learning curve. I think the biggest reason we've had success is that now that we're all done ice hockey competitively, we all want to win at the ball hockey level. More guys are starting to buy in and play our team game.
SS: Have the Gulls developed any rivalries throughout your time playing as a team?
G: We have definitely developed a few rivalries over our short time. Our main one through league play would have to be the London Reapers, as we have played them three straight years in the playoffs. Can't really express how much respect we have for the Reapers. They're a very gritty and hard-working team, and they give us our money's worth every time we play them, and the game is always decided by a goal or two. We're very well matched against each other. Our tournament rival would have to be the Hamilton Lightning, another team that we have the utmost respect for. They've beaten us out of two consecutive tournaments, and have definitely taught us some lessons. They seem to have our number, but we're very eager at our next chance against them.
SS: How has the team grown since its inception?
G: I think the biggest thing we've learned and adapted to is just the game of ball hockey itself. Coming from ice hockey, it's a completely different system and gameplay compared to ball hockey, but we are quickly adapting to the game.
SS: Where do the Gulls go from here?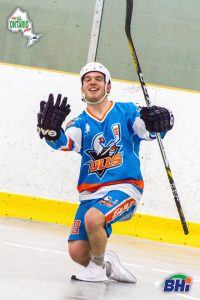 G: We don't really have much planned as far as the future. Like I said, we're just a bunch of kids, so usually everything is planned last minute. We hopefully plan on entering the Ontario Ball Hockey Association (OBHA) provincials in Kitchener/Cambridge later this month, as well as the Outdoor Ball Hockey Championship in Barrie come September, but time will tell. All we can say is we hope to play as much ball hockey as possible in the upcoming years.
G: Lastly, we would like to thank Stick Skillz for the interview, and for helping us get our name out there. Much appreciated. We would also like to thank Dick Price and the LBHA, as he has done countless things for us to help our development.
The London Gulls are a group of stand-up guys who really seem to have what it takes to bring them to the top. We wish them all the best in their future endeavours, and believe that if they stay the course, they'll be an exciting team to watch.
For all the latest news, interviews and updates in the world of ball hockey, stay tuned to Stickskillz.com, and don't forget to like us on Facebook and follow us on Twitter for up to the minute developments!