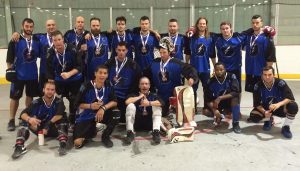 Hamilton, ON–August 28th–Having won the OBHA Provincial Qualifier at April Fools in London, Ontario, BHI's Hamilton Lightning embark on new territory, entering their first OBHA Provincial Championship.  A relatively young team, only playing together since March of 2016, here is a recap of their weekend in Peterborough, Ontario.
---
Game 1 vs. Peterborough Moose Knuckles
Game Synopsis
Going into this game we did not know what to expect, as all we were told was that every team was the Tier 4 winner of their respective leagues.
We got off to a very quick start with captain Alex Murdock scoring in the first minute.  It's great to have leaders on the team that not only talk the talk, but execute what is being said to the team.  I felt great this game and it showed, as I scored back to back goals on the following shift, giving us a comfortable 3-0 lead within the first 3 minutes of the game.  Two more goals late in the second period put this game to bed quickly, as our defence performed strong in our zone, combined with stellar goaltending from Vinny Oliviero.  Mike Galan was buzzing all game as he assisted on 3 goals and almost had a goal of his own. The game ended in a 5-0 win and set the tone for our confidence moving forward in the tournament.
PLAYER OF THE GAME:  Vinny Oliviero
Two major ingredients in creating a successful team are chemistry and trust.  We decided to go out Friday night and had a tremendous night as a team, which I think only carried over in the morning as far as team building and bonding.  A 12:00pm game on Saturday also proved helpful, as I didn't have to set an early curfew for the boys, who partied until 2:00am.  We woke up Saturday morning, refreshed and focused on finishing strong for the remainder of the round robin.
 Game 2 vs. East Gwillimbury Boys Of Summer
So we stayed on the same floor as this team and somehow a friendly bet of two 24's and an extra large pizza became the prize of the winning team.  The Boys of Summer were coming off a 6-1 win over Scarborough and were feeling as confident as we were.
This game was high paced and very physical right from the start, as the B.O.S. (Boys of Summer), were full of size, speed and skill that had us on our heels early in the game.  They took a 1-0 lead and did not let off the pedal.  However, we are a team used to weathering the storm and turning the tables.  We kept our composure and capitalized on a power play which saw Brandon Agnew make a remarkable pass to veteran Anthony Gray for the finish.  Our opposition kept coming and scored a second goal on a great counter attack and screen shot.  However, we kept our composure and scored another PPG, as Brandon Agnew roofed one on the short side.  Although the score showed a tie, we started to dominate the play.  This was capped off by another ridiculous dangle turned into breakaway and stellar finish from Brandon Agnew.  Linemate Mike Fittante sealed the deal with an empty netter, allowing us to win 4-2.  The Boys of Summer showed class, as they held up the bet, not with pizza and beer, but handing the team a hundred bucks.
PLAYER OF GAME: Brandon Agnew
I sat down in the locker room after this game, seeing a team come together and battle through a hard fought game.  It felt great to see Brandon Agnew, a highly skilled player, prove he can play at a high level in big games.  Many team reps in Hamilton warned me not to pick him up, but I never listened, knowing that he has matured into a great player and teammate.
Game 3 vs. Brantford NEE
We decided to give Vinny a rest for game 3, as our other goalie Chevy had not played yet and looked anxious to get between the pipes and contribute to the team.
Alternate captain Mike Osborne looked over to the other team's bench and knew they were in trouble. We were feeling good about our game offensively and defensively.  We made some power play adjustments that paid off in the previous game.  This game was a route and unfortunately, due to the tie-breaking rules, we couldn't let up.  We won the game 8-0, with 7 players having a multi-point game.  Chevy gained some confidence from his teammates with a strong shutout victory, however I felt different with our last round robin game being such an easy one.
PLAYER OF THE GAME:  Travis Hood
After this game, guys were pumped.  I have never been part of a team like this, ever.  Sure, we have our core 10 players, but for the other 8 guys to join us and form such a strong bond over two days was unbelievable to watch.  I had a grin from ear to ear, but reminded every player we have more work to do.  We finished the round robin as the top seed and enjoyed the rest of the night off.
SEMI-FINAL vs. London Easton Infection
Don't let the name fool you, this team was actually the London Junior Knights, who came to the tourney dominating Tier 4 league play in London, helping them qualify for the provincials.  I felt our experience would hold true in this game against a very young and scrappy team.
Another fast paced game, with a lot of counter-attack from both teams.  Things got chippy in this game as gritty forward Matt Galan (brother of Mike Galan) was involved in a few skirmishes and set the tone with his forecheck.  Deadlocked at 1-1 in the last 10 minutes, Matt's line had a tremendous forechecking shift that energized the entire bench.  We started to wear down the opposition who collapsed down low, allowing Anthony Gray to score on a howitzer from the point.  Brandon Agnew scored the insurance goal with another ridiculous dangle on the goalie and capped off the game with an empty netter to seal the deal.  We won 4-1 and are heading to the Finals.
PLAYER OF THE GAME:  Anthony Gray
FINAL vs. Ottawa Duck Hunters
This was the true final, as the number one seed was facing the number two seed.  Both teams had relatively easy round robins and semi-final matchups, so it was hard for us and them to determine what type of game this would be.
This game didn't start the best for us, as Ottawa came out and scored in the first minute of the game.  Being in this position before, our team stayed focused knowing that there was a lot of hockey left and started to change the pace of the game.  Problem was, the Ottawa Duck Hunters passed extremely well and exposed a bit of our sloppy defensive zone coverage, leaving Vinny to make some outrageous saves. The goaltender for the Ottawa was holding up his end of the rink also, robbing me on a one timer in the slot which could have tied up the game.  We did however capitalize on another power-play, scoring with 5 minutes left in the first period.  The bench roared and the team was fired up once again.
During the intermission, we had a long talk about cleaning up the defensive zone coverage, as we could have been down by 2 or 3 if Vinny wasn't performing so well.  We focused on the defensive side and the second period proved to be a grind for both teams, not willing to give up open opportunities or try risky passes that could end up bad.  With 7 minute to go in the game, Brandon Agnew stole the bal from a defenceman and scored a back hander that put us up 2-1.  However, a mere 30 seconds later, Ottawa came down and capiatlized on a bad bounce that tied up the game.  So we headed into overtime.
We limited our forward bench to two lines, however on a counter-attack, an Ottawa forward scored a mid-air bat, top corner goal on an angle to seal the deal for Ottawa.  Their bench erupted, our bench collapsed.  We played a solid game and I felt we were the better team that deserved the win.
I was pretty upset we lost, but looking back at the tourney, we played great and proved to ourselves that we can handle our own on the provincial stage.  I have a great feeling about this team and as we continue to grow and play together, I can see us right back in the finals next year.
A famous quote I live by is "Sometimes you need to lose some battles to win the war", and I will go to war with this team any day of the week and twice on Sundays.
Written by Andrew Williams