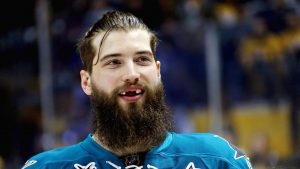 Wookiee, Chewbacca, wild man, animal; these are just a few of the nicknames San Jose Sharks defenceman, Brent Burns is known by. The 6'5, 230lbs heavily-bearded Burns is on pace to make history as only the second defenceman in the history of the NHL to win the Art Ross Trophy. Who was the first defenceman to win the Art Ross? Bobby Orr, of course.
Brent Burns currently has 66 points in 62 games, only 6 points behind League leader, Connor McDavid. There is no other defenceman in the top 10 in scoring, in fact, the second-highest scoring d-man as I write this is Erik Karlsson, all the way down at #21 in NHL scoring. What's more remarkable than Burns' point totals this year as a defenceman is the fact that he entered the league as a forward.
Burns grew up in Barrie, ON and spent most of his minor hockey career playing for the Barrie Icemen and Ajax Knights of the Ontario Minor Hockey Association (OMHA). After stints in the Greater Toronto Hockey League (GTHL), Burns played with the Brampton Battalion of the OHL in the 2002–03 season. He led the team in playoff scoring that season with five goals and six assists in 11 games.
The Minnesota Wild drafted the rugged winger 20th overall in the 2003 NHL Entry Draft. Once he joined the Wild, notorious defensively-minded coach, Jacques Lemaire, converted Burns' to defence. Because he was big and showed flashes of natural ability in rushing from the blueline, Lemaire thought the transition made sense. Burns adapted as a defenceman and earned a regular spot on the Wild roster for the 2005–06 season, contributing 16 points in 72 games. His point totals began to steadily rise and he was awarded with a 4-year contract extension in 2008.
Despite his success on the backend, he was regularly shifted between forward and defence with mild success. Eventually, Burns was hampered by a concussion that caused him to miss the final 19 games of the 2008-2009 regular season. The next few seasons with the Wild, Burns was plagued by injuries, notably a second concussion and shoulder surgery.
During the 2011 NHL Entry Draft, Burns was traded to the San Jose Sharks in exchange for Devin Setoguchi, Charlie Coyle and a first-round pick. In 2013, the Sharks acquired defenceman Matt Irwin, Burns was once again moved to forward, where he scored 20 points in 23 games. In August 2014, after a career of being shuttled between defence and forward, the Sharks announced that Burns would move to defence, permanently. The move proved to be beneficial for both the Sharks and Burns as he's put up 60 plus points each season.
The mastery of Burns' play is lost behind the fact that he plays on the West Coast, in a 'non-traditional' hockey market. This perception that any hockey market outside of Canada is perceived as non-traditional really irks me. Just because every single move isn't scrutinized and over analyzed as it is here Canada, doesn't mean that the appetite for the game isn't as prominent in US. San Jose has been a perennial contender for years, they went to the Cup Final last season and their fans are diehard.
People also get distracted by Burns' appearance. He's covered in tattoos, missing his two front teeth, has a man bun and, of course, that glorious beard. He doesn't fit the traditional hockey player mould of asymetrical haircuts, alibaster skin and sharp suits (see: Sidney Crosby). We hear the stories of how his home in St. Paul is named the 'Burns Zoo' due to his collection of dogs, cats and dozens of reptiles. These things combine to make some people not take Brent Burns very seriously, something that Burns isn't all too concerned about.
When asked about Don Cherry's comment that people don't take Burns seriously because of his beard, this was his response: "I've always looked up to Navy SEALs, Green Berets; they've always had the big beards. The hockey players, you always see pictures from the playoffs — big beard. It's been a thing for me. I've always felt more comfortable with it. I love having it. I don't care what other people say about it."
Written by Stick Skillz Contributor The4Check.com