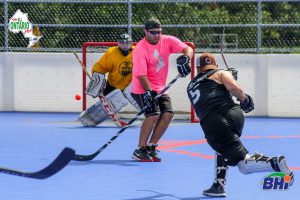 Brantford, ON—Tuesday, September 13, 2016—September ball hockey started off with a bang in Brantford this past weekend as the All Ontario Cup September Shootout took place at BHi Brantford.  A total of 11 teams, spread over 3 divisions, took part in the winner-take-all tournament and even though the weather was less than favourable, all 11 teams left it all out on the rink.
BARN DIVISION
The Barn Division saw 5 teams battle for supremacy and while there were some close games, the Lincoln Pitbulls finished at the top of the heap, winning the division championship.  The Pitbulls only lost one game in the tournament and were backed by some stellar goaltending from Justin Meyer, who finished the tournament with a .930 SV% as well as Chad Upper, Wes Morrison and Cody Young.  Hamilton Knights goalie, Anthony Bailey, also had a strong tournament, finishing with a .889SV% in 6 games played.
REC DIVISION
It was a 3-horse race in the Rec Division this past weekend with the Hamilton Lightning beating the Rebels 2-0, securing the Rec Division Championship.  The entire division was tightly contested but the Lightning stood above the rest, going 4-0-1 en route to the title.  Matt Galan and Jake Archambault shined for the Lightning, while Matt Delisle and Shawn Yard lead the way for the Rebels.
INTERMEDIATE DIVISION
The Intermediate Division was a true clash of the titans as the Throwbacks, the Punishers and OMG! Snipers battled for ball hockey supremacy.  All 3 teams gutted it out but in the end, the Punishers came away with the Championship, beating the Snipers 7-2 in the final.  The Punishers were led by Wade Stafford and Denis Rea while the Snipers had some firepower of their own with Mathew and Mark Stockdale.