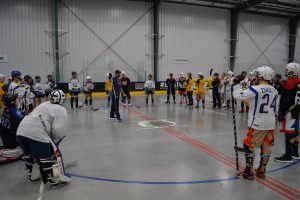 On Saturday, January 27, Stick Skillz caught up with our friends on the Great Britain Heritage Team at their opening training camp session at the Toronto Rock Athletic Centre.  Over 50 male and female players attended to compete for various spots on one of four teams that Team GB will be sending to World Ball Hockey Federation (WBHF) tournaments this year.  2018 will see Team Great Britain Heritage competing in the following divisions:
The tryout kicked off with a handful of drills that really emphasized speed, the ability to move the ball quickly, and allow players to showcase their talents.  They wrapped up the night with a one-hour scrimmage focusing on 5-on-5, power play, and penalty kill.  Team Great Britain Heritage Men's Head Coach, Chad Asselstine said, "I thought tonight went very well.  We had a big turn out and we were able to get everyone out on the floor to do their thing and show us what they can bring to the team."
Men's Teams
Competition was fierce amongst the many men's players competing for a spot on a Team GB roster.  One such competitor, Derek Hann of the London Reapers said, "The tryout went pretty good; I was happy with the way I played at both ends of the floor.  There are a lot of good players out here, and a lot of strong competition."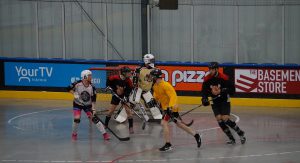 With a lot of returnees at this year's training camp, there are only a handful of spots on the 5-on-5 team available but, players are also being considered for the 3-on-3, and Master's teams. "We like what we brought to the Czech Republic last year from a team standpoint," said Chad Asselstine.  "The guys really came together and gelled so we want to build off of that.  I don't want to have too much turnover on the roster but obviously if new guys earn spots over vets then the spot is going to go to the best guy."
Depth of talent was an area that plagued Team GB in 2017.  Team GB Captain Iain Downes said, "Last year we got caught off guard at times on the depth portion of the game, and some other teams were able to take advantage of that.  There was a large group out tonight, and the talent looks better than last year, which is nice to see."
New talent was in abundance at the event.  Some of the talented players that caught our eye included:
Bram Leggatt (Niagara War Pigs)
Cory Wick (Barrie Flyers)
Connor Lyttle (London Gulls)
Women's Team
2018 will be the first year that Team GB will be submitting a Women's team the WBHF Championships.  The team will be led by Head Coach and Assistant General Manager, Dick Price.  A newcomer to Team GB, Price has been involved in the sport of ball hockey for over two decades.  "Dick is a guy who is very responsible, he has been around ball hockey for a long time and he's someone that you can trust," said Chad Asselstine.  "We're proud of what we were able to put together in year one and where we are going with it.  We want to bring people in who we are confident are going to be like minded and treat it professionally while also doing good for ball hockey."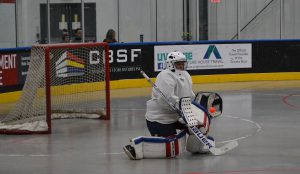 Price should have no problem making this a competitive team based on what we saw on the floor Saturday night.  The talent available is a real testament to the growth of women's ball hockey over the past decade.  "I think the growth of women's ball hockey has a lot to do with women's hockey in Canada.  There are just more and more women getting involved and getting excited about the sport," said goaltender Paula Hodgson.  Hodgson is a veteran of the sport, who has excelled to compete at the North American Ball Hockey Championships (NABHC), and the World Outdoor Ball Hockey Championships (WOBHC).
Similar to the men's group, there was no shortage of accomplished players trying out for the women's squad, including a number of members of the 2016 A Division WOBHC winning London Norstars:
Carly Marino
Megan Haynes
Katrina Jegg
Wrap Up
It's clear that the Team GB staff and players are focused on improving on their fourth-place finish in 2017 while establishing their program as one of the elite in the world.  Roster announcements will take place in the coming weeks and Stick Skillz will be watching closely to see who cracks these rosters.
For all the latest in the world of ball hockey, stay tuned to https://stickskillz.com/. Want to receive stories like this directly to your inbox? Sign up for the Top Cheddar for FREE! And follow us on Facebook, Instagram and Twitter for all up to the minute developments.