This past week, not only did I have the pleasure of following the BHi Great Britain Heritage Team to the Czech Republic, I also had the pleasure of watching some of the best hockey that I've ever seen. The team absolutely played their hearts out, and though they aren't returning home with a medal, they can hopefully return with a sense of pride knowing that they've accomplished something great. I witnessed two comebacks against seemingly insurmountable odds, I saw one of the highest scoring games of hockey in my life, and finally, I saw a group of guys playing for the first time as a unit, play as though they've been together for years. The bronze medal game against Team USA may not have gone as Team Great Britain would have liked, but each player on the team should be proud of what they accomplished over their games at the 2017 World Ball Hockey Federation (WBHF) World Championship.
The Game
The sec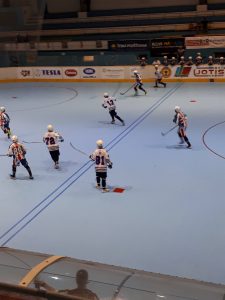 ond game against Team USA was no doubt a little less energetic than the first. After all, this game was played right after Team Great Britain lost to Team Czech Republic after a questionable call regarding a shot that was taken at the last second of the game. Regardless, it was noticeable that everyone on the team was a little disappointed. Still, the boys managed to push through their disappointment and score a few goals. Captain Iain Downes, and number 14, Matt Delisle were able to take the lead in the early game with a couple fantastic shots.
Unfortunately, Team USA managed to catch up relatively quickly, and keep their lead up until the end. After the second period, it seemed like Team USA was playing a completely different game, and came out with a burst of energy. Team Great Britain's goalie, Mark Hawrylak played an outstanding game though, stopping over twenty shots and making some truly miraculous saves. Mark was absolutely on fire during game 6, winning him the team's final MVP award.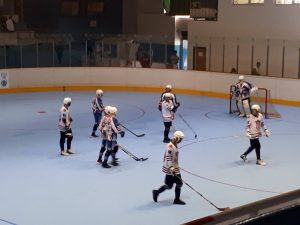 In the end, unfortunately, Team Great Britain was unable to walk away with a medal from the tournament. Their skillful playing did allow them to leave with a 4th place overall at the tournament, though, and that's nothing to shake a stick at. To go from an underdog going into the tournament to making it to the semifinals undefeated is almost unprecedented, and it was a pleasure to witness the level of ball hockey that I did throughout the WBHF.
Final Scores:
Mens Playoffs
Canada
GP: 3
W: 3
L: 0
OT: 0
Russia
GP: 3
W: 2
L: 1
OT: 0
Czech Republic
GP: 3
W: 2
L: 1
OT: 0
USA
GP: 3
W: 2
L: 1
OT: 0
Great Britain
GP: 3
W: 1
L: 2
OT: 0
Slovakia
GP: 2
W: 1
L: 1
OT: 0
Europe
GP: 3
W: 0
L: 3
OT: 0
Hungary
GP: 2
W: 0
L: 2
OT: 0
Find out More
For more coverage on the WBHF 2017 World Championships, and all things ball hockey, keep it tuned to stickskillz.com, and for up to the minute updates, make sure to follow us on Twitter @stickskillz and like us on Facebook.