The BHi Great Britain Heritage Team took on Team Russia yesterday, after their energizing win against Team USA this past Wednesday (wrap up available here). Russia was certainly out for blood. They played a very aggressive game, but Team Great Britain was able to pull it out in the end and move on to the Semi-Finals of the 2017 World Ball Hockey Federation (WBHF) World Championships. It hasn't been an easy road to this point, but Team Great Britain has played some amazing hockey, and have really made a name for themselves at the tournament, going from underdog to top contender. Only time will tell what will come out of the rest of the tournament, but one thing's for sure, every member of this team should be filled with pride after the display they've put on these last few days. If they keep playing the way they have been, they stand a real chance at getting the gold.
The Game
Drew and Gordy Clemas, the brothers on Team Great Britain, worked off of each other expertly in the early game. Gordy set Drew up with a nice assist, and Drew was able to dump the ball into the net. Team Russia was playing a very aggressive game yesterday. They weren't afraid to come out hard and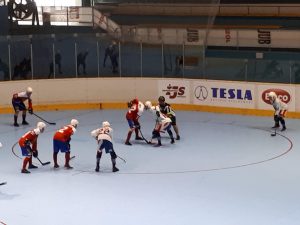 fast – which is exactly what they needed to do against Team Great Britain. I think this tactic may have taken some of the boys by surprise in the early game, as Russia scored to tie the game at 1's in the first period. Like in game three though, I think this woke the players up, as they were noticeably on the ball afterwards. Steve Morriss came in shortly after with another beautiful goal – the game winner. This was an absolutely huge moment for Steve, and I don't think I've ever seen a player happier or more appreciative of his time on the floor. He told me that he knew his family was watching, and he could feel their energy while he was playing.
After Steve's goal, Russia just couldn't recover. Not that they weren't trying. They seem to be one of the pushier teams at the tournament so far, which led to a couple really chippy moments by the boards. Still, the ball stayed mostly in Russia's defending zone, and Team Great Britain brought the score up to 5-1 by the end of the game, with goals from: Iain Downes, Bryan McGahey and McKenzee MacQueen. Kudos must be paid to MacQueen, who played the entire game – even scoring a goal – with a stomach virus. That's dedication.
In an incredible display of skill and speed, Team Great Britain is taking this win over Russia to place them first in their division. They're also moving into the semi-finals undefeated. While undoubtedly impressive, the team's prowess has assuredly sent a message to the other teams at the tournament that they're not to be messed with. I think we can only expect the highest level of play out of the semi-final and final games in the last days at the WBHFC, and the boys of Team Great Britain had better be prepared for it. Game five is today at 7:15 (1:15pm EST) against Team Czech Republic.
Current Standings:
Playoffs
Canada
GP:1
W:1
L:0
OT:0
Czech Republic
GP:1
W:1
L:0
OT:0
USA
GP:1
W:1
L:0
OT:0
Great Britain
GP:1
W:1
L:0
OT:0
Russia
GP:1
W:0
L:1
OT:0
Slovakia
GP:1
W:0
L:1
OT:0
Europe
GP:1
W:0
L:1
OT:0
Hungary
GP:1
W:0
L:1
OT:0
Find out More
For more coverage on the WBHF 2017 World Championships, and all things ball hockey, keep it tuned to stickskillz.com, and for up to the minute updates, make sure to follow us on Twitter @stickskillz and like us on Facebook. https://www.facebook.com/BHistickskillz/