Game three of the 2017 World Ball Hockey Federation (WBHF) World Championship is officially over, and let me tell you, it was certainly a harrowing experience. At one point things weren't looking so good for Team Great Britain, and myself and the other spectators were concerned that this might end up the first loss for the team. Through an absolutely amazing display of hockey, though, the team managed to make a miraculous recovery, and keep their winning streak alive. Team Great Britain is now undefeated heading into game four against Russia, and talking to a number of the players has made it clear that they're feeling confident as ever.
The Game
I could tell heading into game three that it could really have gone either way. Many of the players had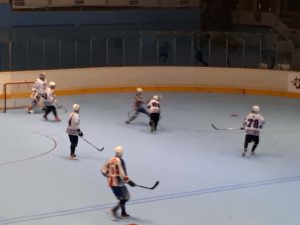 mentioned to me that Team USA was going to be one of, if not the biggest, challenger at the tournament. Tensions were high as Team Great Britain stormed the rink, and the guys played as hard as I've ever seen anyone play a game of ball hockey. In a crushing blow early in the second period, USA scored a goal making this the first game that wouldn't end in a shutout for Team Great Britain. Shortly after, USA scored a second goal, and things were starting to look bleak. In my opinion, though, Great Britain needed these goals against them. They were exactly the wake-up call they needed to kick things into high gear, because after this it was obvious that they'd stop at nothing to make the recovery.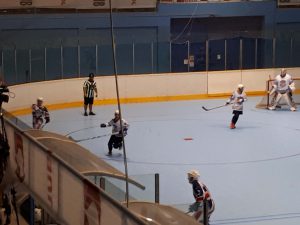 Just a few short minutes after Team USA scored a second time, McKenzee MacQueen scored a huge top shelf goal, which was exactly the confidence booster that Great Britain needed to carry them through to the end. Shortly after, Matt Delisle took a questionable penalty call, which was worrying being that the team was already at a disadvantage at a 2-1 score. Brian McNellan pulled off the unexpected though, and tied the game up to 2-2 With an amazing goal within just five minutes of MacQueen's.
The rest of the game was an intense back and forth. The ball was all over the rink, and the team was truly working for the win. A huge amount of admiration must be paid to the team's goalie, Gage Gonyou, who performed one of the best goaltending games I have ever seen. Gage faced nearly thirty shots on net, and made some absolutely incredible saves, winning him the MVP for the game. USA's goalie was no slouch either though, which had the game at a tie for what seemed like forever. In the last two minutes of the game though, Team Great Britain earned a penalty shot that was taken by Andrew Jegg. I don't think anyone in the arena was breathing while they watched Jegg take his shot. He made his way down the floor, and scored the goal at an absolutely critical moment. That was it, USA didn't have enough time to make any kind of comeback. The team (and spectators) erupted in cheers, in truly one of the most exciting moments in sports I've ever witnessed.
There's no doubt that this was one of the best games of hockey I've ever seen, but one of the coolest things about this tournament is seeing just how invested the players are in the games. Mitch Scott came up to me after the game to let me know how close he was with his grandfather – a Manchester born man who has sadly passed away. As a part of Team Great Britain Heritage he's, in part, playing for his grandfather, who would assuredly be overjoyed with where Mitch is right now. In fact, multiple members of Tea Great Britain have approached me to let me know how much of an influence their parents and grandparents have had on their game, and how proud of them they are. They should be proud, and the players should be proud of the incredible games they've played up to this point.
Up next is Team Russia in the Quarter Finals of the WBHFC 2017.
Current Standings:
Men A
Canada
GP:3
W:3
L:0
OT:0
Czech Republic
GP:3
W:2
L:1
OT:0
Russia
GP:3
W:0
L:3
OT:0
Men B
Great Britain
GP:3
W:3
L:0
OT:0
USA
GP:3
W:2
L:1
OT:0
Europe
GP:3
W:1
L:2
OT:0
Hungary
GP:3
W:0
L:3
OT:0
Find Out More
For more coverage on the WBHF 2017 World Championships, and all things ball hockey, keep it tuned to stickskillz.com, and for up to the minute updates, make sure to follow us on Twitter @stickskillz and like us on Facebook.