Team Great Britain Does Russia
Another year at the World Ball Hockey Federation (WBHF) Championships has come to a close, and honestly, time seemed to have lost all meaning during our time at the tournament. Somehow it feels like the trip spanned two days, and two weeks all at once. From the arduous process of gaining entrance to Russia, to the repeated roadblocks that came up during our stay, for better or worse, our time in Dmitrov was one that we'll never forget, and though neither the men's nor ladies' teams left with the outcome they were hoping for, everyone on the trip became closer over our ten-day stay together.
Team Bonding
Having travelled with the team during their excursion to the WBHF in the Czech Republic last year, I had become quite familiar with several of the players. That said, this year, there was a litany of unfamiliar faces joining the men's team and an entirely new women's team in tow. This meant that for team interviews and to accurately keep track of the action during the team's games, I would have to take some time to get to know each of the new additions to the team. Luckily for me, the new members of the team were as open and welcoming to me as they possibly could have been, and by day two, everyone had completely gelled with their new family for the coming week.
This was not accomplished without some outside influence, however. We were, of course, crammed into close proximity for a not insubstantial amount of time during our eighteen-hour flight to Moscow. This provided us with some quality time to get to know one another. Then there were the team dinners, and outings to everyone's games. I can't speak enough about how heartening it was to see the men's and women's teams out at the rink for each other's games, cheering loudly from the stands. Finally, the evenings of late night camaraderie. Some responsible outings to the local bars led to some…entertainment in the hotel that would echo throughout the halls – as long as there were no games the following day. I apologize for what you're about to see, but I believe that it's better to show than tell, so I present to you, at the risk of personal embarrassment, some real team bonding.
To Russia With Love
It wasn't all smooth sailing, however. As we'd chronicled in our lead-up post, the process of gaining access to Russia was – for lack of a better term – trying. The seemingly endless roadblocks that would present themselves on the way to June 9th made us all feel a little uneasy as to whether we'd actually find ourselves on the plane on the way to the tournament, or if we'd have to throw in the towel before the games even began. As is well known about Team Great Britain at this point, though, they never quit, and their Head Coach, Chad Asselstine was tenacious in his mission to acquire a visa for every member of the team. With a single day to spare, he succeeded, and it seemed like everyone could breathe a sigh of relief on the way to the airport. Unfortunately, the challenges wouldn't stop here.
I'd love nothing more than to report that everything was downhill once we stepped foot on Russian soil, but that wasn't the case. A series of schedule and structure changes and some communication breakdowns would see to it that there was never a dull moment for Team Great Britain while they were abroad. It seemed like it was always unclear when the team would be playing, and who they'd be playing against until the day before. Couple this with the fact that the rules for the quarter, and semi-finals were constantly in flux, and you start to see that it was difficult for anyone on Team Great Britain to relax during the ten-day period we were abroad. Still, Team Great Britain is remarkable at keeping their head up high, and they did their level best at no letting this stuff get to them. They took the news as it came and dealt with it one step at a time.
The Games
There's no getting around the fact that Team Great Britain did not leave Russia with the results they were hoping for.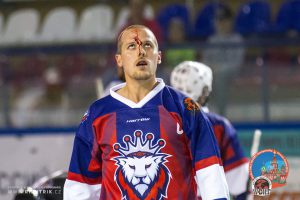 Things started off on the wrong foot when the ladies of Team Great Britain lost to Russia in a shutout with a score of 2-0. The trend would continue the next day when the men's team lost to Russia in a tense shootout that went five rounds before Russia claimed the win with a score of 2-1.
It wasn't until the men's first game against Team Europe that they were able to turn things around for Team Great Britain, winning handily with a final score of 7-1. Flying high on this win, the ladies were able to beat Team USA right after with a score of 4-1. Unfortunately, the men's team couldn't hold onto the momentum, and took a loss during their next game against Team Czech Republic.
I've got to give it up to the boys of Team Great Britain, they know how to take a loss gracefully. Even after losing what they thought was a chance at the gold medal, they took it in stride, and moved on with their night. Fortunately for them, though, the tournament underwent another change that night, and the rules for the final games were altered (for the third time) in their favour. They would now play against Team Europe the following day for a chance at the semi-finals. Unfortunately, the news of the changed rules came a little bit too late, and some of the guys were already feeling a little dejected by this point. They were mentally exhausted, and physically even more so, having played three games over the span of 24 hours. All of this played a part during their game against Team Europe, and even after beating them the day previous, they took a final loss during their rematch with a final score of 2-1.
The ladies team managed to take another win during their rematch against Team USA, but unfortunately, lost out on the bronze medal during their game against the Czech Republic with a final score of 3-2. Despite leaving Russia without any hardware, Team Great Britain, both the men and women, played some tremendous games of hockey. They should be proud of how they performed, and how they grew as a team over the course of the trip. The ladies especially, being that this was their first time playing together, showed some tremendous growth as far as how they played and communicated together. It was truly a sight to behold.
The Road Back Home
The majority of our time in Russia was spent in the city of Dmitrov. We came to know the area rather well and grew familiar with a few local restaurants and hot spots. With two teams playing alternating schedules though, Team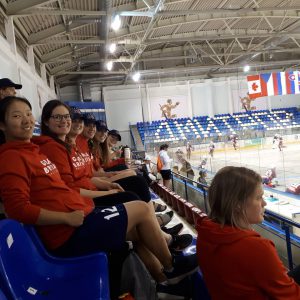 Great Britain would find themselves spending a good amount of time in the hockey arena. As I said before, it was great to see the ladies team come out to cheer on the men, and vice versa. The cheers of "G B, G B, G B!" that echoed the arena were surely bolstering to the teams during some of their tougher games.
Virtually everything we did on this trip was done as a team, which did a lot for morale. I would speculate that this had a lot to do with the teams' constant positivity – even after taking a loss. A theme in talking to the players either personally or during interviews was 'family.' The members of Team Great Britain would continually refer to one another as their brothers and sisters, and you could tell they meant it.
Luckily, we had the opportunity to explore a bit more of Moscow during our final day in Russia, and we were able to see some of the most beautiful landmarks that the country has to offer. It was during this time that we were reminded that we were experiencing a once-in-a-lifetime opportunity. Whatever the outcome of the tournament, Team Great Britain was able to travel to a foreign country to compete in the sport they love at the highest level, which is something that each member of the team should be proud of.
After walking through Red Square, seeing the Kremlin and enjoying one last family-style meal as a team of forty-five people (with probably the most food I've ever seen in one place at one time), it was finally time to head back to the Moscow airport, where we'd wait for our flight and reminisce about the tournament. Were there some bumps in the road? Sure. Were we leaving with the outcome we'd hoped for? Admittedly not. Will Team Great Britain be back to take their shot again? Absolutely, and with even more experience under their belt. Make no mistake, Team Great Britain remained positive throughout the trip, but each and every member of the team knows that they're capable of taking home the gold, and that's' just what they'll be aiming for during their next outing to the WBHF in 2020.
---
Until then, stay tuned to stickskillz.com, and follow us on Facebook, Instagram, Twitter, and YouTube for updates. Want to see stories like this delivered right to your inbox? Sign up for our free, monthly newsletter, the Top Cheddar right HERE.