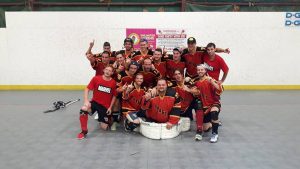 Everybody loves an underdog.  During March Madness, we cheer for that school that no one's heard of to take down juggernauts like Duke or Kentucky.  In hockey, we hope that the Arizona Coyotes finally make it to the Stanley Cup Final and have Shane Doan lift Lord Stanley above his head.  It's ingrained in us to cheer for the 'little guy,' because if they can do it, anyone can.
This past summer, a team called the Stoney Creek Savages, entered the Gateway to the Worlds Tournament that was held in St. Catharines, ON.  No one had really heard of the Savages with teams like the Reapers and Punishers getting all the attention, but there was something different about this Savages team, a group that hasn't been together all that long.  "Our team was put together roughly a year ago," Savages Captain, Chad Upper, explained, "many of us had played together (or against each other) before and felt that we had the capability to put together a new team."  With well-known squads like the Rose City Kings, the Burlington Dukes along with the Reapers and Punishers, the Savages knew they were in tough to get their piece of the ball hockey pie.  They entered into Tier 3 of the Burlington Ball Hockey League and soon found themselves in the Toronto Provincial Ball Hockey Tournament.  "We performed well and ended up winning the tournament, which qualified us to compete in the 2017 National Championships next summer; we knew this team was special," Upper said proudly.
The biggest test for the Savages was on the weekend of August 19-21 when they were set to play in the Gateway to the Worlds.  The team knew they were up against some stiff competition but did their best to eliminate any distractions.  "We did our best to not focus on our opponents and simply focus on ourselves," explained Upper, "we eliminated expectations for ourselves and had the motto of 'Let's get to work' throughout the entire process."  The strategy worked; despite being down 3-1 to the Reapers in the semi-finals, the Savages pulled out a victory and set up a Finals matchup against the Punishers.  The Savages once again found themselves behind 2-0 but these pesky underdogs rallied, and pulled off a dramatic OT win, making them tournament champs.  "The win was a huge accomplishment for our team and feels like a stepping for us moving forward," Upper beamed, "we had a great experience playing in the tournament."
Upper believes his team can still improve in certain areas of their game and they plan on doing so as they gear up for the Bauer World Hockey Championships later this month.  Ultimately, they have their sights set on winning the National Ball Hockey Championships in summer 2017 and if they do that, they'll be underdogs no more.