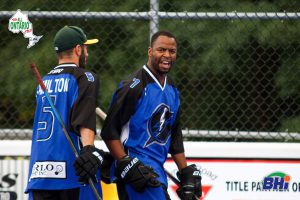 (Stick Skillz contributor, Andrew Williams, writes about his team's journey to the Worlds).
When I think of the Hamilton Lightning, the key word is growth.  We went into BHi September Shootout, two weeks before the Worlds, and won our first tournament in the 'Rec' Division.  Don handed me the trophy with an 'I told you so' look, as many felt we were not challenging ourselves in Barn. In five tournaments, we have two championships (BHi London/Brantford), two OT losses in the finals (BHi Welland/OBHA Provincial Championships) and one semi-final loss (BHi St. Catharines).  Two bounces our way in two finals, and we have four championships in five tourney appearances.
Fall season isn't over though, the prime time tournaments are about to begin, the Weekend of Champions and the World Outdoor Ball Hockey Championships.  I call them 'The Ring Rush' and 'The Worlds.'
Hotels booked once again, we arrive in Barrie for the Worlds.  As most teams here, we are banged up; we have played lots of hockey leading up to this tourney.  The Worlds is pretty much a crap shoot when it comes to the teams you play, so we have tempered expectations, just hoping to compete.  Friday night was nothing special, XBOX one and six controllers, along with drunken young hockey players walking down Bayfield Street at 1:00am.
Game 1 vs. Barrie Maple Kings (2016 WOBHC "C" Division Champs)
This game was an 8 o'clock in the morning game, in which every Lighting player forgot to set their alarm to the first period, second period or third period.  As every team does, the Maple Kings came out running and gunning and we just had to weather the storm.  But we were not strong at all, definitely not a game we would like to remember.  We were slower than molasses in January and every other bad pun you can think of.  Needless to say, we lost 4-0.  I guess that was the wake up call.
Top seed is definitely not an option anymore. Friday night, I was watching our buddies on Stoney Creek Savages smash a team. When I left in the second period, the score was 6-0.  So the goal is to compete and get into B Division Playoffs.  The amount of chirps we would hear if we don't get into B would be tremendous.
Game 2 vs. Ottawa Cannons
This was a better paced game for us, as we took the game to the Cannons early and often.  The Ottawa Cannons were very disciplined and showed signs of a team with good chemistry.  We on the other hand, were snake bitten by posts, hitting the damned post every other shift in the first period.  Ottawa scored in the second period on a gritty play. We couldn't lose another period, and the team stayed determined.
Simple play, soft chip pass by a defender on the left wing, followed by a wrap around goal.  No crazy celebration this time, as I was just happy to finally score a goal.  It took me six periods to get a goal but it felt like one hundred.  Game was tied after two periods, and the feeling out process was completely removed from the game.  The third period had many chances from both teams with some great saves.  Nothing was solved in the third period and the game ended in a 1-1 tie.
I was in shock, the Hamilton Lightning sit with 3 points going into our last game.  The team did the math and we figured we would need 8 or 9 points to get into the B Division Playoffs on Sunday.  I was on fire inside, I knew this team was much better, we had to prove it.   Four hours until our last game in a regular tourney habit of triple-header Saturdays.
Game 3 vs. Barrie Reckless
The boys were a bit sour and pissed off this game.  It showed; we absolutely dominated and scored early and often.  Mike Galan, one of my favourite line mates, showed his frustration by burying an early goal, combined with two more later in the game.  Barrie Reckless stood no chance.  I honestly felt it did not matter who faced our third game, we were getting the win.  We won the third game 6-0.
Our team completed the round robin with a record of eight points via one win, one loss and one tie; we wouldn't know who we would face until 12:30am at the earliest.   We stayed up, well, most of us at least.  Vinny had a massive bottle of rum in his room, and I wasn't going out with the boys to the Ranch tonight.  So finally, we get the news at 12:30am and we are the sixteenth seed in the B Division Playoffs tomorrow.  We play the first seed, our home rink adversary, the Stoney Creek Savages.  Not even a mention in the preview article, but arguably the breakout team of 2016.
PVR Champs, OBHF Provincial Champions, Two-time OBHL Champs and Gateway Champs.  Ironically, the Savages do not have a BHI Championship; however I see that changing come the spring of 2017.  We were completely loose going into this game, as we have played them tough for two straight seasons.  I guarantee you the Savages will say they perfected their comeback ability against the Lightning.  They better say that, they are coming into this game 6-0 against the Lightning, all but two games late third period comebacks, unbelievable.
Round of 16 vs. Stoney Creek Savages (2016 WOBHC 'B' Division Champions)
I predicted six months ago that we would play Savages at Worlds, just a hunch.  All my close teammates thought I was nuts, the 36 team tournament is so random.  But it ended up this way, I knew in order to be the World's Champs, you would have to beat the Savages.  The game was tight; they came out aggressive and controlled most of the play in the first period, until a quick counter attack and goal from Lightning centre Brenden Nagy.  However, in Savage like fashion, Stu from the Savages scored with 2.6 seconds left in the first period.
The second period was a period of counter-attack once again, as Mike Osborne did all the work on a two on two, and then passed me a beauty in the slot.  I had no choice but to finish.  We took the lead 2-1 and I felt that momentum had swung in this game.  Either way, we had another period to finish this game off.  A bad turnover and poor defensive play turned into a second goal for the Savages, wide open shot in the slot.
Savages forward Russ McKay buried a tight rebound to put the Savages up late in the third period.  We stay focused but frustrations took us off our game and Savages scored another in the third period to put the game out of reach.  When the horn went, the score was 4-2.  This loss stings, another big time loss to our Hamilton ball hockey brothers.  The sting was gone though once we found out Savages won the Worlds 2016 'B' Championship.
In the end, I was happy with our progress through the tourney.  This is not an excuse, but we had 3 of our top players out with injury going into this tourney, so competing in B was the goal we accomplished.  With our full team, I can argue that we would have been facing Savages later on Sunday.  Arrogant you say?  Probably, but other respected people in the ball hockey community agree.
I am more happy to see Hamilton get a Worlds Championship and it be all the guys we have played with and against for 6-7 years.  We leave this tournament feeling good about our chances at winning BHi Weekend of Champions in late October.