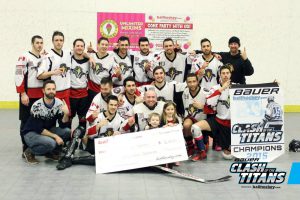 When the ball drops on November 25th, 2016, the Niagara Rebels will be looking to win Clash of the Titans for the third time in four years.  The Brampton Express will be looking to make their third consecutive finals, hoping this is their year to finally take home the top prize.  Heading into the third period of last year's final, the Express trailed the Rebels 3-2, however, a massive third period by the Rebels lead to a 7-3 win.  To watch last year's final please click here.
16 of the top ball hockey teams in North America will be competing for $16,000 in cash handed out to the top four teams based on the following split of the entry fee (60%/20/10/10).  100% of the $ 1,000 entry fee is returned in the prize pool to the teams.  In 2015, the Niagara Monarchs were ranked 14th pre-tournament and rode Aaron Campisano in net to a top four finish and a $1,400 cash prize, showing us all what team chemistry, attitude and a passion to win can accomplish.
In all three years, the eight teams making it to Sunday have all been capable of winning.  You need your "A" game on Sunday to roll into the money.
For more information, please visit Clash of the Titans webpage.  Limited Space is available, so if you want to take a run at this level of competition, get in touch with Brian Broley at [email protected].
*Information and content credited to ballhockey.com