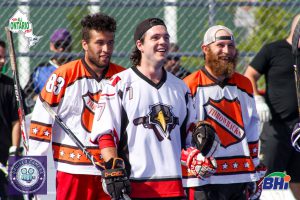 July 11, 2016—Welland, ON—The Summer Showdown, the latest installment of the All Ontario Cup, took place in Welland, ON this past weekend with some familiar winners and a few surprises.
In the Intermediate Division, it was perennial powerhouse, the Punishers who walked away with yet another AOC Championship, going undefeated in the tournament and scoring a total of 31 goals in 5 games.  The Punishers were led by Graham Campbell and Mike Martin who had 12 and 11 points respectively and by goalie Denis Rea who finished the tournament with a 2.55 GAA and .900 SV%.  The Punishers, however, didn't coast to their championship title.  They faced their rivals, the Throwbacks in the championship game and were given all they could handle from a strong Throwbacks squad but ultimately came away with a 2-1 victory.
The Barn Division saw some unfamiliar faces stand atop the division ranks.  The Hamilton Haze had a strong tournament in a pretty tough field of competition.  The Haze got through the tournament without dropping a game and scored an impressive 31 goals in 5 games and only gave up 9 to the opposition.  This was due in large part to the play of Cristiano Digeacinto who finished with a whopping 19pts (12G, 7A) in 5 games.  Hamilton Haze goalie Bryan Blancher was no slouch either winning 5 games and finishing with a 1.00 GAA and a .940 SV%.  The Barn Division Championship was the Battle of Hamilton as the Haze took on the Lightning in a tightly-played contest which saw the Haze dethrone past champs, the Lightning by a score of 4-3.
In the Barn Consolation final, we had an all Brantford matchup with two familiar foes The Ringers facing off against BDB. The Ringers finished as the high seed in the consolation pool with BDB right behind them so it was fitting that the two teams met each other in the final. Ringers were led by Brandon Cain 6pts (4G, 2A) and Curtis Gibbons 5pts (3G, 2A) in 5 games and strong play from their goalie Matt Cain. BDB also had a powerful offense that carried them through the tournament led by PJ Fulsom 7pts (3G, 4A) and James Murphy 6pts (1G, 5A). In the final game however it was the Ringers whose offense led the way building a 5-0 lead over their rivals BDB and holding on for the victory.