One of the most exciting things in this industry is getting to witness talented up and comers as they develop into star players. Recently, we were lucky enough to sit down with Noah Perlic, one such athlete who has proven himself both on the ice and on the floor in all forms of hockey. Perlic is headed to Newfoundland next year to represent Canada during the World Championship as part of the U20 team, so we jumped on the opportunity to talk about that, as well as his history with our favourite game.
Stick Skillz: Tell us a little about your background with ice hockey.
Noah Perlic: I started ice hockey like most regular kids. I was four years old playing house league in my home town of Jordan, Ontario. As a couple years went on, friends and family were realizing my talent for the game and in the following year I went out for the St. Catharines AAA team. I played AAA up until major bantam where I ended up getting cut. After being cut I played AA for 2 seasons before making the jump back to AAA in major midget.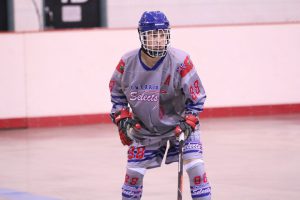 SS: Are you currently playing ice hockey? What level do you play at?
NP: For the past year and a half I've been playing for the St. Catharines Jr. B Falcons, where I'll be playing for the 2017/2018 season.
SS: How did you get into ball hockey?
NP:  I got into ball hockey when I was in grade 8 after watching my brother and his friends, which interested me in the sport.
SS: What have been some of your most memorable moments in ball hockey?
NP: I have many memorable moments in ball hockey as I have competed in the Junior Nationals for the past four summers in Winnipeg, St. Johns, Edmonton, and Kitchener. If I had to pick one, it would have to be this last summer, where we finally captured the gold medal and became national gold champs.
SS: Has ball hockey helped your game on the ice at all? How?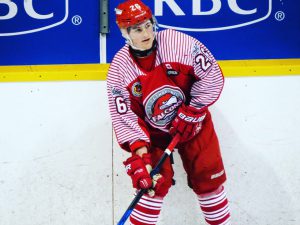 NP: I feel like ball hockey does help my ice hockey game. Even though they are two totally different environments, ball hockey has helped me with hand-eye, quick feet, and has kept me in good overall shape for main camps in August every year.
SS: What's on the horizon for you in hockey?
NP: I'm honestly not too sure what's really next for me in ice hockey. I still have this season and next year to think about what I'm going to do whether that be play for school, or just end up playing for the fun of the game. For ball hockey, I'm really looking forward to next year where I'll be representing Canada at the U20 World Championships in Newfoundland.
SS: Where do you see yourself in hockey, be it ball or ice, in five years?
NP: I don't really know where I'm going to be in ice hockey in five years, I just hope I'll still be on the ice doing something, whether that be playing or sharing my knowledge for the game by coaching. For ball hockey it's really hard to say as well. I definitely still see myself playing, as I currently play for the Rebels in the Premier league which I could continue to do, but other than that, I'm not really too sure.
---
It's tough to predict exactly where you'll be in the future, but as long as you're out there on the floor or on the ice, doing what you love, you must be doing something right. We'd like to thank Noah for taking the time to answer our questions, and wish him the best of luck at next year's World Championships.
For all the latest in the world of ball hockey, stay tuned to Stickskillz.com, and don't forget to like us on Facebook and follow us on Twitter and Instagram for up to the minute developments!