While perusing Team Canada's U20 roster for the 2018 International Street & Ball Hockey Federation (ISBHF) World Juniors that was recently announced, we happened to recognize a name. One of Stick Skillz' original contributors, and player for BHi's Great Britain Heritage Team, Mckenzee MacQueen, will be representing his country during the tournament next year in St. John's, Newfoundland from July 4th-8th. We sat down with Mac to ask him some questions about how he'll be preparing for next year's tournament, and what it was like to find out he was chosen for the team (once he checked his email.)
Stick Skillz: Welcome back to Stick Skillz, Mac. When did you start playing ball hockey?
Mckenzee MacQueen: I started playing ball hockey when one of the fathers of the ice hockey community (Dan Gilbert), who was also the father of one of my good friends, Devyn "Gibby" Gilbert, opened up an outdoor ball hockey rink in London, Ontario known as BHi London. He invited all the boys out to give it a try, and I fell in love!
SS: What was the transition like for you from ice to ball hockey?
MM: The transition for me wasn't too hard growing up. After school, I would play road hockey until it was time to go play ice hockey, or until it was too dark to see the ball anymore. From there, I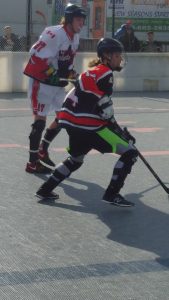 joined the sport as it was kind of new to London, and as the sport continued to grow, I grew with it and soon realized that with school, work and life, there just wouldn't be any time for ice hockey.
SS: When did ball hockey take over as your primary sport?
MM: Like I was saying, I think ball hockey kind of took over for me once I reached about high school, and life just got too busy. I had work and school, and to play both was just too much. I have friends that play Junior, but that never really interested me and what people don't realize is that ball hockey at any level has no "end." I was at the Worlds last year playing against men that were 40+ still playing and having just as much fun as I was. Ice hockey is over at 21.
SS: Tell us a bit about your experience on a national and international level.
MM: I've played in four national level tournaments and have had great success! My teams placed second, sixth, third, and recently in the summer we won the U19 national championships in the last year that I was able to attend Junior Nationals. I've also had the honour to participate in two international championships. For one I wore the jersey for my own country and brought home gold with Team Canada and Mauro Cugini. I was also picked to play for BHi's Great Britain Heritage Team coached by Chad Asselstine, and it was our first time at the men's world championships. The sport of ball hockey has allowed me to see and explore parts of my own country as well as parts of Europe I'm not sure I would have seen if I wasn't in the position I am.
SS: How did it feel when you found out that you were selected to play on Team Canada?
MM: Funny! I received an email from the general manager, Mauro Cugini, however I'm not one to check my email often. I didn't see this email for a couple of weeks, but luckily did in time to respond. Chad [Asselstine] knew about the email the whole time, but never spoke about it. When I saw the email, I was in shock to tell you the truth, because like in ice hockey, and any other sport in this country really, it's every athlete's dream to represent Canada. I think it's safe to say I was nervous but excited. Also proud.
SS: What sort of changes (if any) will you make in preparation for the ISBHF World Juniors?
MM: Lots! I've never really taken care of my body before. I know that sounds bad, but in the coming year I have two international tournaments: one with Team Canada, and I'll be returning with the Great Britain Heritage team as well. I also play with the Niagara War Pigs from the premier league, who are attending men's Nationals next year too. For me, my goal for next summer is to be in the best shape health-wise I've ever been!
SS: What is your ultimate goal in ball hockey?
MM: I think being a Canadian athlete, my ultimate goal would be to play for my country and bring home gold, which I already had the honour of doing in 2016. I want to perfect my game on the floor, and hopefully be able to bring home gold for my country at the men's level!
SS: Are you taking any sort of steps to make this goal a reality?
MM: Absolutely. I believe I have some work and development physically and mentally to do before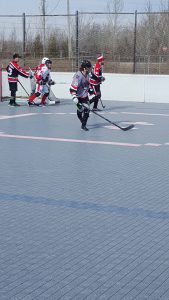 I can make it a reality. I believe I could bring home gold at the men's level but for the years leading up to the opportunity I will work on bettering my game as well as myself and also everyone surrounding me.
SS: What are your expectations for the World Juniors? Any team that you expect to be a really tough competitor?
MM: At my first world Juniors it was USA that gave us our closest game at 5-0 being the final score, so I know they will bring a tough, hard-working squad, but in the years leading up to this tournament, Slovakia and the Czech Republic never fail to bring a good roster. It should be interesting, but I expect only gold around my neck by the end of the week in St. John's!
SS: Do You know any of the other players announced on the team? How do you feel about the team heading into the tournament?
MM: Boy do I ever! Noah Perlic has been with me at every national event I have attended and in the last year we helped each other lead our team in points and bring Withrow Park a national Championship. Daniel Lowe was part of the Withrow Park Knights as well. The three of us combined for every goal the Knights scored aside from 3 at Junior Nationals this past summer. Then of course, over the past two years, defenceman Michael Bertone and I have shared a special bond as he was part of the Ontario Selects in Edmonton last year, and our goalie Jackson stood on his head all week for us to help bring home the gold! With these young men as well as some names I recognized released with the U20 roster, I believe there is no team that could bring the talent and hard work the 20u ISBHF Team Canada will have at the U20 Worlds in St. John's next summer.
SS: What goes through your mind when approaching a big tournament like this one?
MM: Honestly, not much. I'm not one to get nervous or scared. I usually pack my suitcase the night before I leave for any kind of trip whether it be the weekend or over a week like the Worlds in Prague. I would say I'm very excited and thankful to have the opportunity to play for my country at such a big tournament. I think anyone who knows me knows that I just like to have fun and that doesn't change when I'm out on the floor. I can get competitive of course, no one likes to lose, but I like to go and have fun and I think the week in St. John's is going to be packed full of fun! I'm pumped!
SS: Have you ever been to St. John's before? What are you most looking forward to about going?
MM: I haven't! I was out east a couple years ago for Junior Nationals with the Ontario Selects and it was beautiful. I can't wait to get there and explore a part of my country I've never seen and play some ball hockey!
We have a feeling that Mckenzee will do Canada proud at the ISBHF World Juniors, and can't wait to check out the games. We'd like to thank Mac for taking the time to answer our questions, and wish him and the rest of Team Canada the best of luck in their fight to take home the gold!
For all the latest updates in the world of ball hockey, stay tuned to Stickskillz.com, and don't forget to follow us on Facebook, Twitter and Instagram for up to the minute developments!