This Friday, February 16th will mark the start of the ninth annual Pete Van Ryn (PVR) Memorial Ball Hockey Tournament. The tournament will take place at the Niagara Ball Hockey Club in St. Catharines, Ontario, and will run through February the 18th. The tournament was put in place to commemorate a long-time player at the Niagara Ball Hockey Club, Pete Van Ryn.
The PVR tournament is about bringing people who are as passionate about the sport as Pete was together for a weekend long event of ball hockey. As such, there will be teams competing across Men's B/C & D, Over 35, Women's, and Co-ed divisions. Not only is this an inclusive tournament for players, but this amount of action means that there's something for everyone to come by and check out. If you're in or near the St. Catharines area, head over to the Niagara Ball Hockey Club, located at 16 Melbourne Ave. and catch a few of the games with a hot meal and a cold drink in the restaurant that overlooks the rink. What better way for a ball hockey fanatic to spend their weekend?
We're looking forward to some familiar faces at the tournament. The Outlaws for example, having placed third at this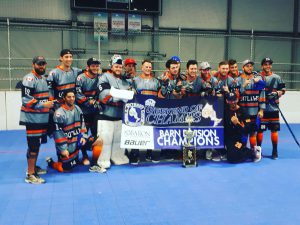 year's Winter Classic, will be making their return in the Men's B division at the PVR tournament. We know that they're capable of a great game of ball hockey, and don't think they'll disappoint this weekend. We're also looking forward to checking out performances by a few other Hamilton teams, the Haze and the Lightning, as well as the St. Catharines Punishers. We've seen these teams bring the heat in the past, and we don't think they'll hold back during the PVR. There are plenty of other teams and match-ups to get excited about this weekend. a full list schedule can be found right here.
Ballhockey.com says "The Van Ryn Family and Ballhockey.com are proud to continue to hold this amazing event every year in memory of Pete Van Ryn. Pete was a long time loyal player to the Niagara Ball Hockey Club who had an incredible passion for ball hockey and was a huge supporter of the sport. Every year since his passing, the Niagara Ball Hockey Club has welcome teams from near and far to continue to help support growth in the sport that Pete loved." This is a truly thoughtful sentiment, and we think that Pete Van Ryn would be honoured that his namesake is being used to represent the sport he loved most.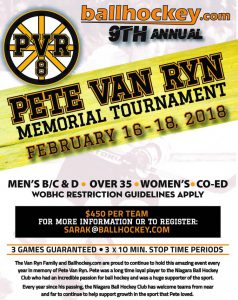 ---
For all the latest in the world of ball hockey, stay tuned to Stick Skillz, and don't forget to follow us on Facebook, Instagram and Twitter for all up to the minute developments. Want to receive stories like this directly to your inbox? Sign up for the Top Cheddar for free!