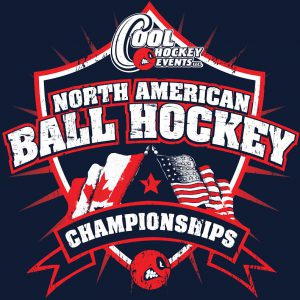 March 7th, 2017–Hamilton, ON–One of the most prominent ball hockey tournaments in all of North America will take place March 10-12 and March 24-26 in Philadelphia, PA.  The North American Ball Hockey Championships bring the best there is in Canadian and US ball hockey together in a battle for ball hockey supremacy.
The event is broken up in to two different weekends in March.  March 10-12, the Men'sC/D, Novice and Coed A/B divisions square off followed by Men's A/B and Women's A/B March 24-26.  Stick Skillz will be hitting the road with Bryan McGahey and the rest of the Barrie Flyers to gain first-hand experience in what it takes to win a tournament like the NABHC.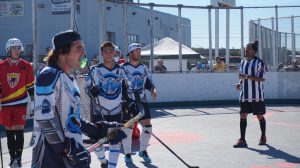 Last year, Canada cleaned up as the Niagara War Pigs edged the Boston Saints to take home the 12th Annual North American A Division Title, while Jersey Fresh won a 5-4 OT thriller against the Toronto Rage.  In the Women's B Division, the Barrie Donaleigh's claimed their title after defeating Chicago's Lady Cobras.
The Barrie Flyers look to bring the Men's A title home to Ontario when their tournament begins on March 24th.  At the Clash of the Titans back in November, Titans left-winger Tyler Yerex put on quite a show and he led the Flyers in the OBHF Fall 2016 season with 9 points in 5 games.
Be sure to follow Stick Skillz on Facebook and Twitter so that you don't miss out on all the highlights and hijinks on the Barrie Flyers journey to Philly!
For more information on the Flyers, click HERE.