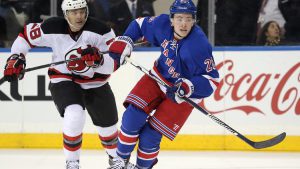 When it comes to this year's NHL rookie class, all the talk has been about Matthews, Laine, Marner and Nylander. There's a good reason for that; Nylander, Laine and Matthews currently sit 1, 2 and 3 in rookie scoring and Mitch Marner isn't far behind at number 5. There are, however, a couple of other first-time NHLers that are having impressive campaigns but no one is talking about them.
Jimmy Vesey is a name that Maple Leafs fans will be familiar with. He was originally a Nashville Predators draft pick back in 2012 but the American winger decided to attend Harvard University following the draft. He ended up staying at Harvard for 4 years and exercised his right to not sign an entry-level deal with Nashville. Many thought that Vesey, the 2016 Hobey Baker Award Winner, was destined to up in Toronto since his father, Jim Vesey, is a scout with the Leafs. The free agent forward, however, ended up signing with the New York Rangers, where he's putting up some pretty impressive numbers. In 13 games this season, Vesey has 6G, 4A while averaging just over 14 minutes of ice-time.
The other rookie no one is talking about is Columbus Blue Jackets defenseman, Zach Werenski. In 10 games this season, the Grosse Pointe, Michigan native has 2G, 8A for a total of 10 points, 5 of which have come on the power play. Oh yeah, he's also a defenseman, arguably one of the hardest position to acclimate to as a rookie. The 6'2 d-man is averaging over 21 minutes of ice-time per game; the third-highest TOI for a defenseman on the Blue Jackets. He was an 8th overall pick for the Jackets in 2015 and he's already showing signs of being a dominate blueliner in the NHL.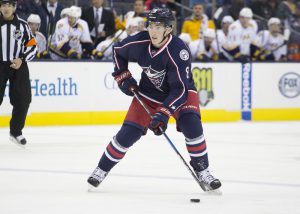 With both Vesey and Werenski firmly entrenched in the top 5 in rookie scoring, why has there been such little fanfare over them thus far? Some say it's because they don't play in Canadian markets, where hockey and its players are followed with the same intensity of CNN's election coverage. It also doesn't help that 3 of the top 5 rookies all play for Toronto, a city that turns a casual Marner/Matthews sing-along into a week-long news story. Despite all of that, it isn't out of the realm of possibility that we'll be hearing Vesey and Werenski in the Calder Trophy conversation as the season progresses.
Article courtesy of Stick Skillz contributor, the4check.com