While following ball hockey over the last year, we've noticed some impressive growth coming out of teams from Hamilton, Ontario. Lucky for us, our contact in the world of Hamilton ball hockey and self-proclaimed ball hockey fanatic, Andrew Williams, was willing to sit down participate in an interview about how he's seen the sport grow, and where he'd like to see it go in the coming years.
Stick Skillz: Hamilton has recently launched a men's indoor league; the first one in quite some time.  What led up to this launch and how did it become possible?
Andrew Williams: Since the men's indoor 5-on-5 was dissolved in the early 2000's, Hamilton teams have had to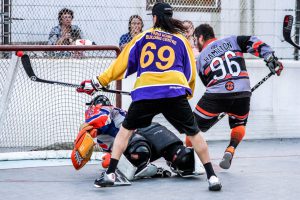 travel out of town to play 5-on-5 indoor, which becomes complicated for some players.  I decided to reach out to both the Ontario Ball Hockey Federation (OBHF) and Ontario Ball Hockey Association (OBHA) about possibly starting a league in Hamilton.  Richard Rocha from the OBHF contacted me and we got the wheels in motion.
SS: Why do you think it took so long for this to happen?
AW: I think it was just the desire to take the chance on Tier 1 Hamilton ball hockey again.  Hamilton's old indoor 5-on-5 league was known for brawls and problems and I think with this new generation of players, the negative stigma that came along with that is going away.
SS: What do you think the impact of this indoor league will be for the sport in Hamilton?
AW: I think the impact is already huge as the Hamilton Ball Hockey League currently has 600 kids registered in their minor program.  Bring in this new men's league and there's a potential for longevity as the kids get older.
SS: How long have you lived in Hamilton, and how long have you been playing ball hockey?
AW: I was born and raised in Hamilton, so I've lived here for 37 years.  I have been playing ball hockey for 12 years now.
SS: In what Capacity are you involved with the ball hockey scene in Hamilton, and how did you come to be involved?
AW: Up until two years ago, I was just a player on different teams.  In 2016, I started Hamilton Lightning and decided to push the envelope as far as playing tournaments across the province.  Last year, I took a minor role with End2End Ball Hockey in Hamilton, as scheduler and team liaison. That was a great experience, however I always wanted to get 5-on-5 indoor in Hamilton.
SS: What leagues are affiliated with ball hockey in Hamilton?
AW: The Hamilton Minor Ball Hockey League, is an OBHF/Canadian Ball Hockey Association (CBHA) sanctioned indoor 5-on-5 league for kids.  The Hamilton Men's Ball Hockey League is the OBHF/CBHA sanctioned indoor 5-on-5 league for adults.  The (Ontario Ball Hockey League) OBHL is an outdoor facility, with rinks at Confederation Park and Fifty Point Park.  End2End Ball Hockey is an outdoor facility on Upper James in Hamilton and is the original ball hockey facility in Hamilton.  Hamilton Indoor Ball Hockey Club is a 3-on-3 indoor facility based on Nash Road.
SS: What is the current state of ball hockey in Hamilton?
AW: The current state of ball hockey in Hamilton is fantastic.  There are many leagues, players and teams.  The great thing is the current generation of men's players are starting to make their mark outside of the city, winning several tournaments and championships across the province and country.
SS: How have you seen the sport of ball hockey grow?
AW: I have seen the sport grow from having one place to play to now having several options for parents and players.  I have also seen the legitimacy from a recreational activity into a government recognized sport, which is amazing.
SS: What sets ball hockey in Hamilton apart?
AW: In my opinion, it's the camaraderie amongst the players and teams. I could also argue Hamilton's love for tournament hockey sets us apart. It's normal, now, to see 4-6 Hamilton teams in a tournament. Two years ago you would not have seen that.
SS: Where would you like to see ball hockey in Hamilton go?
AW: The long-term goal is an all year indoor facility for ball hockey, which I believe we will see within the next 5 years.
SS: What are some ways you think the sport could continue to grow in Hamilton (or continue to grow in general.)
AW: I think the city could use a legitimate tournament, which I plan to organize in the coming years.   I also believe the current leagues are in a good state, so growth will just continue.
SS: Ball hockey is obviously something you're very passionate about. What is it that drives that passion?
AW: Well the truth is my father, RIP.  I used to watch him play Ice Hockey and I grew up playing ice hockey, so I just have a passion for hockey.  After playing a few years of ball hockey, I loved it.  Then about 5 years ago, I played my first ball hockey tournament and I became friends with so many people who had the same passion.
SS: What are some of the big teams coming out of Hamilton we should be watching for? What is it that makes them noteworthy?
AW: Stoney Creek Savages are the team to beat in Hamilton.  They're a ranked top 25 in North America (I think they should be higher).  They have won several championships in the city and across the country, including Barrie Worlds, OBHF Provincial and CBHA National Championships.  Healthy Scratches, Hamilton Haze and Hamilton Lightning have won the last three Tier 3 Provincial Championships, along with several Ball Hockey International (BHi) Championships.  Also, watch out for the Hamilton Outlaws and the Ducks. People will argue that these accomplishments are lower tier hockey, but you have to start somewhere.  Expect to see those teams move up the ranks to win Championships at higher levels.
The Hamilton Men's Indoor League starts April 13, 2018.  For information or to register, go to the website (www.ballhockeyhamilton.com).  You can also contact Andrew Williams ([email protected]) or Richard Rocha ([email protected])
We'd like to thank Andrew Williams for sitting down and answering our questions. We wish him the best as he continues working to grow the game we love in Hamilton.
---
For all the latest in the world of ball hockey, stay tuned to stickskillz.com, and don't forget to follow us on Facebook, Instagram, and Twitter for all up to the minute developments.