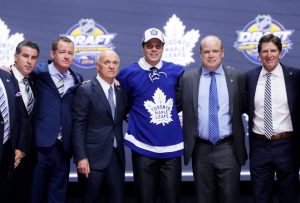 Photo Courtesy of NHL.com
It's August 29th, which means hockey players are beginning to pack up their gear and head to NHL training camps.  Summer is over, at least for these athletes, and that means it's time to put all that off-season training on display.  Included in the mix are plenty of NHL draft prospects  who will have to compete against grizzled vets and young guns to prove they belong.  Edmonton will have Jesse Puljujärvi, Winnipeg will have Patrik Laine, Montreal will have Mikhail Sergachev and the Toronto Maple Leafs will have Auston Matthews.  The 4 names I just mentioned are highly-touted and highly-skilled but they're still kids, unproven and untested at the NHL level.  They'll no doubt show flashes of brilliance but they'll also experience their share of adversity and their teams and fanbases will cut them a break; well, all of them except Auston Matthews.
If it were any other team in any other market, the pressure on Matthews to not only be good but great right, would be less.  You might be thinking, "what about the Oilers and McDavid?"  Well, the Oilers have had a succession of first overall picks in the last decade so really the only expectations Connor McDavid had to live up to were the ones he set for himself.  In Toronto, it's an entirely different beast.  You have arguably one of the most arrogant franchises in hockey, who have been mired in mediocrity and mismanaged for the last 50 years, winning the first overall pick in the draft.  When they selected Auston Matthews, they weren't just selecting the top pick overall, they were selecting their entire future.  Every move the Leafs have made over the past 2 years has been centred around Auston Matthews.  Whether it was hiring Lou Lamoreillo and Mike Babcock to oversee hockey operations or running the tandem of Jonathan Bernier and James Reimer out onto the ice last season, all of it was done with Auston Matthews in mind.
Matthews was a 57th overall pick by the Everett Silvertips of the WHL but opted to play with US National Team Development Program (USNTDP) where he broke Patrick Kane's scoring record by 14 points.  Rather than continue in US amateur hockey or play in the CHL, Matthews bucked the trend and chose to play professional hockey in the Swiss NLA in the year leading up to the draft.  There were varying opinions about his choice to turn pro a year before the 2016 NHL Entry Draft; some thought he was merely chasing a paycheque while others thought he was seeking out tougher competition to play against.  Either way, Matthews had a successful Swiss League campaign and that further wetted the appetites of Leafs' brass.  All of this leads me to the conclusion that Auston Matthews can't fail, not in Toronto, a hockey city notorious for eating its own (i.e. Nazem Kadri, Dion Phaneuf).  Whether the fans, the media or Leafs management admit it or not, anything short of a 2016 Calder Trophy winning season from Matthews will be looked at as a failure.
From Stick Skillz contributer @The4Check