CBHA Adult Nationals
Last week the Canadian Ball Hockey Association (CBHA) brought out some of the top competition in the country, playing respectively in the Men's, Women's, and Master's divisions. If you've been following along, you know that we've been posting updates on our Facebook and Twitter feeds, but with the final games in the bag, and gold medals having been doled out, it's time for one final update. Did the Edmonton Savages keep their momentum alive? Were the Ottawa Capitals able to pull ahead? Woah there, pal…all this and more will be answered in our CBHA Adult Nationals wrap-up!
Men's Master's
Let's kick it off with the Men's Masters. Early in the competition, it was clear that Manitoba True North and NL Colonial Auto Parts were going to be the teams to watch out for. That said, Alberta Havoc was pulling up a close third for the entire preliminary round. When it came time for elimination, Alberta Havoc kicked it into high gear. They took out the Toronto Capitals with a score of 5-2, before vanquishing the round robin titan, Manitoba True North in the semi-finals. The Havoc beat True North by a final score of 5-2. On the other side of the bracket, NL Colonial Auto Parts continued to dominate, placing them up against Alberta Havoc in the gold medal game. Manitoba True North's loss to Alberta Havoc had them facing of against Team Saskatchewan for the bronze.
Bronze Medal
The bronze medal game was over before it started. Manitoba True North took the lead over Team Saskatchewan and wouldn't let it go, eventually winning the game with a final score of 6-0. It would have been great to watch Manitoba face off against NL Colonia Auto Parts, but True North seemed to harness their disappointment and focus it towards their bronze medal fight.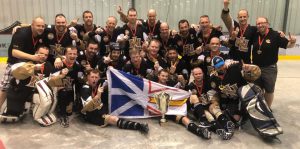 Gold Medal
The Master's gold medal game was a little bit closer than you might have expected given NL Colonial Auto Parts' record up to this point. They managed to take the win over Alberta Havoc, but just barely. Alberta was out there to prove they were the team to beat, and they fought tooth and nail, but Colonial Auto Parts proved to be the top team at this tournament and ended up winning with a final score of 2-1.
Women's A
As we pointed out in our last update, Calgary United were killing it in this tournament, and that wasn't about to change. Heading into the elimination round undefeated, they were able to take the win over Team BC, moving them into the gold medal game where they would face off against their biggest competition, the Ottawa Capitals. Team BC and Edmonton Red Light pulled up close behind to play in the bronze medal game.
Bronze Medal
The bronze medal game was well fought, as the players on Team BC and Edmonton Red Light were pretty evenly matched. That said, Team BC showed their mettle during this game and came out on top, taking home the bronze with a final 4-2 score.
Gold Medal
The Calgary United and Ottawa Capitals game was quite a bit closer, and a hell of a lot tenser. It was unclear how this game was going to go. Calgary United had obviously made it clear they weren't to be messed around with, and the Ottawa Capitals played it safe. They weren't about to allow many goals, but in the end all that Calgary United needed was one. One goal was all it took for Calgary to take home the gold medal, and for everyone watching to breathe a sigh of relief after a truly intense match-up.
Men's A
In the Men's division, the Edmonton Savages could not be stopped. Though they were heading into the elimination round with a 2-1-0 record, when push came to shove they kicked it up a notch. They took the win against Fort McMurray Snafu with an impressive 7-0 score, then against the Vancouver Falcons with 3-0, pitting them up against NL Blackhorse in the final game. Unfortunately for the Falcons, their loss against the Savages meant that they'd move on to the bronze medal game against the Manitoba Selects.
Bronze Medal
One look at the preliminary standings of this tournament, and you could see that this game should have been pretty tight. Both the Vancouver Falcons and Manitoba Selects head into the elimination round with a similar record (Vancouver's only loss being against the Manitoba Selects in overtime). With that in mind, the Manitoba Selects were able to control the scoreboard in this one. They ended up winning with a shutout score of 3-0.
Gold Medal
The gold medal game was another impressive display by the Edmonton Savages. When we said they couldn't be stopped, we meant it. They really shone during the elimination round, and they were able to ride that momentum through the final game where they would establish a healthy lead and hang onto it. NL Blackhorse is no slouch of a team, but they couldn't manage to close the gap that the Savages created, and the Savages took home the gold by a score of 4-1.
There were a whole bunch of great games of ball hockey being played at this year's CBHA Nationals. What else would you expect when you bring out some of the top-tier teams in the country? Congratulations to the Edmonton Savages, Calgary United, and NL Colonial Auto Parts for taking the gold in your divisions. There was some stiff competition, but you all rose to the occasion. If you want to check out the full standings and scores of the tournament, you can do so right HERE.
---
For all the latest in the world of ball hockey, stay tuned to Stick Skillz, and don't forget to follow us on Facebook, Instagram, Twitter, and YouTube for up to the minute developments!