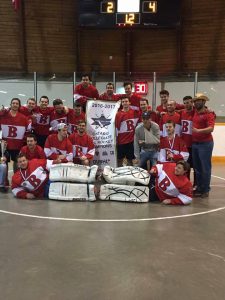 The Ontario University Ball Hockey League recently held their playoff tournament, March 10-12 in Kitchener, ON at the Queensmount Arena.  The four teams competing for top spot in the league were Brock, Carleton, McMaster and Waterloo.
After the round robin, Waterloo and McMaster were headed to the Bronze medal game with Brock and Carleton facing off in the Championship game.
In the Bronze medal game, Waterloo started the game strong and built an early 3-0 lead on goals from Jacob Matsui, Matt Mammoliti and Joseph Wang in the first period.  The second period saw further domination from Waterloo as they added another goal but did concede a goal to McMaster's Kris Mennil while still holding a three goal lead.  There was plenty of rough stuff at the mid-way point of the final period as several players from both sides were ejected from the game for major penalties.  Waterloo would add two more goals to extend their lead to 6-1 and capture the bronze medal.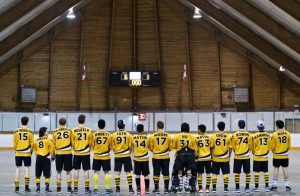 The Championship game saw the top two teams from the regular season battle it out for OUBHL supremacy.  Brock kicked things off in the first period with strong play from Anthony Loveless, potting two goals in the first ten minutes of the game.  Carleton would respond with a goal from Cameron McMullan near the end of the period to cut Brock's lead to 2-1. In the second period, the two teams traded goals, Tye Greschuk for Carleton and Brendan Christian for Brock, maintaining the one goal cushion with the score being 3-2 after two periods.  Carleton gave it all they had firing 32 shots on net but were unable to beat Brock's goaltender, Jeff Heartwell, more than twice. Brock would add two more goals in the final frame to clinch the 2017 OUBHL title.