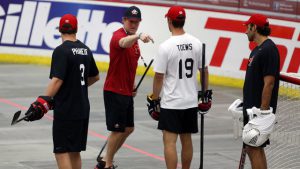 We've all seen the footage of the 2014 Canadian Men's Olympic Hockey Team playing a little ball hockey as part of their summer orientation camp.  The reason the boys were in sneakers instead of skates was because Hockey Canada, and several NHL team owners, deemed it too risky to have the eventual gold medal winners skating around so far in advance of the Olympics.  It was mainly a playful event aimed more so to get the group together and to go over some preliminary evaluations; not really to be taken seriously.  What some people may not realize is just how seriously the sport of ball hockey is taken throughout the world and how it's helped shape the careers of a lot of big name NHL players.
You don't have to dig too far to find a link between ball hockey and the NHL, especially if you look up Alexandre Burrows.  The Vancouver Canucks super-pest was an undrafted QMJHL player that toiled around in the ECHL before signing with Vancouver in 2005.  Burrows has managed to carve out a pretty decent NHL career, putting up 264 points in 640 games while getting under the skin of his opponents.  While most people associate Alexandre Burrows with biting other players' fingers and stirring controversy with NHL officials, people in ball hockey circles see him a bit differently.  Burrows had a prolific ball hockey career, one that saw him win two World Championships, be named the 2005 International Player of the Year by the International Street and Ball Hockey Federation (ISBHF) as well as inductions in to the CBHA and ISBHF Halls of Fame.  Ball hockey played such a huge role in Burrows' life that he's credited it as the reason he was so fit and disciplined when he entered the NHL.  Here's an excerpt from a November 2010 interview Burrows did for canucks.nhl.com:  "It's pretty similar to hockey and it helped me on the ice, that's for sure. Not only with the skills, but cardio-wise, you can't glide out there so you have to make sure you run and you can't really cheat or otherwise you really get beat."
It's not just 3rd line agitators that have had ball hockey play a part in shaping their NHL careers.  Joe Thornton, pre epic playoff beard, honed his skills in the London Ball Hockey Association prior to being selected 1st overall by the Boston Bruins in 1997.  It's safe to say Jumbo Joe has had a pretty stellar career thus far.  Reigning Vezina Trophy winner, Braden Holtby cut his teeth in the Saskatchewan Ball Hockey League (SBHL) during the summers and a couple of Stanley Cup Winners named Joe Sakic and Steve Yzerman also turned to ball hockey while preparing for their pro careers.
There are countless other professional hockey players that have played elite level ball hockey and there's a new wave of talent in the pipeline.  If players like Burrows, Thornton and Yzerman have taught us anything with respect to ball hockey, it's that the sport deserves legitimacy and recognition for being a valuable tool in the development of high-calibre athletes.
–Stick Skillz contributing writer, Tammy Allen www.the4check.com