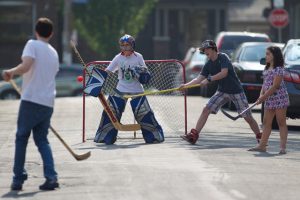 On July 15th, 2016, Toronto city council voted to lift the ban on street hockey in a move that brings Canada's national pastime back to the streets.  Toronto Councillor Christin Carmichael Greb led the movement when she noticed that people in her ward were being threatened with fines for playing hockey and basketball in the streets.  It was an old bylaw that had been around since 1978 but was really only enforced if other residents in the area called police to tell them of the violators.
The decision to overturn the ban is a logical one since people are playing hockey or basketball in the streets anyway; now they won't have to worry about getting in trouble.  The matter of playing in neighbourhood streets is all about common sense and courtesy; if there is a car coming, you yell "car," and resume play once it has gone by.  At the same time, people are urged to keep noise at appropriate levels and not cause damage to anyone else's property while playing.  Now that the ban is lifted, residents can play street hockey on local roads with a speed limit of 40 kilometres or less, between 9 a.m. and 8 p.m. during daylight hours.
With so many kids, and adults, attached to their phones and computers, lifting the ban will hopefully encourage them to get outside and get some exercise.  It will also help develop social skills and a sense of teamwork that is often learned through sport.  Technically the city can face liabilities if someone is injured playing sports or games on streets but as long as people abide the rules and play responsibly, it shouldn't be much of an issue.  City council's decision to overturn the ban caught the attention of some notable people, such as Mayor John Tory who Tweeted, "Game on! City Council has lifted ban on street hockey, hockey is Canada," and the National Hockey League Player's Association (NHLPA) who Tweeted, "Great to see Toronto city council lift the ban on street hockey! Game on!"  Yes, game on indeed.