The 2018 All Ontario Cup (AOC) program continues next weekend, and this tournament is no joke. The 2018 Ontario Ball Hockey Association (OBHA) Winter Provincial –  April Fools Tournament is slated to kick off April 20th and will run through the 22nd at Ball Hockey International (BHi) London and Stronach Arena. Not only will the April Fools tournament be a single weekend of ball hockey action across several divisions, as part of the AOC program, it has larger implications, as far as giving teams a shot to take home their championship rings at this year's Weekend of Champs Tournament in October. Teams will also be looking to qualify for the OBHA Provincial Championships this August in Cambridge. With status and reputation on the line, you can bet that these teams will be bringing their A games, so this is a tournament you won't want to miss out on.
The April Fools tournament will see B, C, D and E teams competing at two arenas concurrently. Teams in the E division will be competing outdoors at BHi London, while the B, C, and D teams will be meeting at Stronach Arena in London, ON. Both arenas are sure to offer some exciting games, but we can recommend a few teams that might be worth keeping an eye on if you're planning to spectate over the weekend.
E Division
The E Division will feature an incredible 15 teams, most of which come out of London. There are a few Hamilton teams that will be making an appearance as well, who should put on a good show. We recently caught up with Andrew Williams to discuss the surge of ball hockey talent coming out of the Hammer, and think that the Steel City Vikings are going to be interesting to watch. With last year's champs, the Danforth Knights moving up to D division, this tier is wide open. In addition to the Steel City Vikings, watch out for a trio of London teams including Lorne Avenue, Hockey Balboas, and the Warriors.
D Division
You can expect some great action coming out of the D division this year. Last year's finalist, the London Bombers will be looking for redemption after coming short in the finals in 2017. Additionally, after a strong performance at the BHi Spring Teaser, we're keeping an eye on the Hamilton Ducks.
C Division
Moving up the divisions, the Hamilton Outlaws, London Rebels, and Hamilton Haze are all competing in the C tier at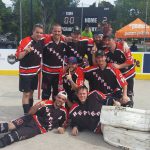 Stronach arena, and having seen each of these teams compete in the past, we're expecting some high-energy match-ups. In fact, the Haze are defending C division champs at this tournament; a title we're sure they hope to defend. In an interesting move, the London Outpatients are dropping down to the C division in 2018. Last year, the Outpatients made their way to the B division finals before falling to the London Reapers.
B Division
You might want to pack a lunch and stay around the arena for the B division games though, as there are a number of heavy-hitters competing at this level. We're excited for face offs between some London teams, as the Throwbacks,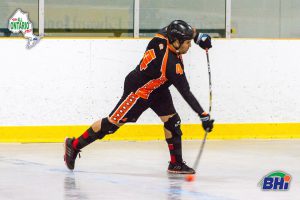 Reapers, and Gulls will all be in attendance. The Throwbacks suffered a few tough losses at this year's Spring Teaser tournament, which might be just the motivation they need to show everyone what they've got this time around. The Gulls have been a really fun team to watch over the last few months, and there's no reason to think that the April Fools tournament will be any different. Of course, everyone will need to go through last year's champs, the London Reapers, who thoroughly dominated this tournament in 2017. We emphasize the need for you to pack a lunch for this division as our sources tell us that in addition to the teams listed above, the Punishers, Titans, and Nightmare are all loading up to take a run at the B division crown.
The April Fools tournament promises a packed weekend of ball hockey action. With so many talented teams on the roster, you're almost guaranteed to catch a great game if you head by either rink over the weekend. The E Tier games will be played at BHi London (17B Clarke Rd. London, ON.) and the B, C, and D Tier games will be played at the Stronach Arena & Community Centre (1221 Sandford St. London, ON.) If you're in the area, swing by and catch a game!
---
For all the latest in the world of ball hockey, stay tuned to stickskillz.com. And don't forget to follow us on Facebook, Instagram, Twitter, and YouTube for up to the minute developments. Want stories like this delivered right to your inbox? Sign up for our monthly newsletter, the Top Cheddar, for free.