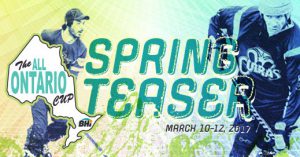 March 6th, 2017–St.Catharines, ON–March has finally arrived and that means one thing: The All Ontario Cup officially kicks off this weekend in St. Catharines, ON with the Spring Teaser.
Marvel, The Throwbacks, Healthy Scratches and the Ontario Selects make up the Intermediate Division.  The Hamilton Lightning, newcomers San Bor Sports, Rebels, Hamilton Haze, Toronto Reign and the Renegades make up the Rec Division.  The Ringers, Sailors, RedBulls, Spartans, Misfits, Rampage, Steel City Cobras, Bandits and Hammerheads round out the Barn Division.
The Hamilton Lightning are the team to watch this weekend.  They dominated the Rec Division all last season and if they win again this weekend, they will be moved up to Intermediate where they'll face some pretty tough competition.  Not to be forgotten are the Hamilton Haze.  They had a strong showing at the Niagara Winter Classic this past January so look for them to give the Lightning and the rest of the Rec Division all they can handle.
With the Hamilton Haze being bumped up to Rec following an impressive 2016 campaign, the Barn Division is wide open coming into this season.  Look for the Toronto Reign to make some noise as they were nipping at the Haze's heels all last season.  It'll be interesting to see how the Bandits and RedBulls will fare now that have a couple of AOC tournaments under their belt.
The Intermediate Division will be a 4-horse race since the Punishers are not entered in the tournament.  The Throwbacks are always a threat to win as are Marvel.  With Mike Formica and Mike Stewart, the Marvel have a 1-2 punch that can give opposing teams fits.  It'll be interesting to see how the Healthy Scratches and Ontario Selects will handle the firepower coming from Marvel and The Throwbacks.
The tournament kicks off this Friday, March 10th at BHi St. Catharines.  As always, admission is free so if you find yourself in the area, come on out for some great ball hockey and fierce competition.
For more information, click HERE.