A Conversation with Dick Price
Dick Price has been involved with ball hockey organization in London in one form or another for twenty years now, and has experienced the sport grow and change first hand. Originally slated to coach the Ball Hockey International (BHi) Great Britain Heritage Women's Team, Dick knows a thing or two about the sport. Unfortunately, due to a familial obligation, Dick has had to step down as coach for the women's team at this years World Ball Hockey Federation Championship in Moscow, Russia, but he's still busy operating the London Ball Hockey Association (LBHA) and London Minor Ball Hockey Association (LMBHA). We wanted to catch up with him to get his insights as to how he's seen the sport evolve in the London area, and how he's been able to grow the LBHA and LMBHA to the state that it's in today.
---
Stick Skillz: You've been involved with ball hockey for over two decades.  How did you get involved with the sport?
Dick Price:  The first time I was introduced to the sport was by a good friend who was playing on a team in Lambeth with a bunch of people from his work.  They were short on players one night, so he asked if I wanted to play.  I immediately loved it and was asked to come back for the remaining duration of the season.  The next season I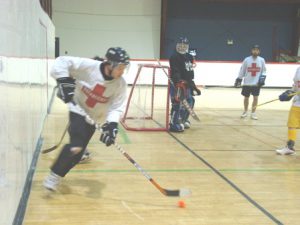 was looking at entering my own team.
SS: The London Ball Hockey Association (LBHA) was born out of the end of the London Ball Hockey League and the Forest City Ball Hockey League.  Why have you been able to find success where these other organizations faltered?
DP: I think that comes down to my passion for the game. I probably put in more hours in a week on the LBHA than any normal person would ever put into it [Dick laughs] I laugh but it's true…for the most part though, it doesn't seem like work to me.  When you have a job that doesn't seem like work and isn't a hassle to do every day, that's when you know you're in the right line of work.  Another important thing for the LBHA's success is that I think I have always tried to have it run by the players as much as I possibly could.  It's the players who helped set up our leagues structure on just about everything, rules/scheduling/suspensions and so on, I just try to organize and enforce what everyone wants.
SS: You're the current owner and operator of the London Ball Hockey Association.  What made you get involved with this organization?
DP: Ever since I was a kid I have been into organizing sports, when I wanted to play a game of baseball, I would personally call everyone I knew who might want to play until we had enough to play a game.  For most of my teens I even ran a road hockey league, it was pretty insane when I look back at it because this was during the late 80's/early 90's.  As a young teenager I had organized a street hockey league that had 6-8 teams in in with all neighborhood kids, each team had its own home venue, we had refs, kept stats, had suspensions, gave out awards, video taped games so on and so forth.  This took place from when I was 12-13 right up until my last year of high school.  So, when a lot of people in the London Ball Hockey League were unhappy with how it was being run, a lot of my peers started really pushing for me to take over the program. Eventually I gained the confidence to do just that.
SS: What challenges has the LBHA faced over your time with them?
DP:  Wow, all sorts of things [Dick laughs] Hot head teams/players are always a recurring problem to deal with and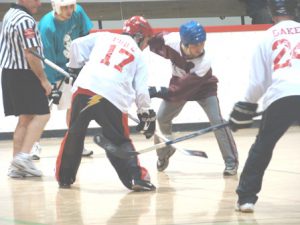 at times a very serious one as they make the game less enjoyable for everyone else, finding a fair balance of talent among teams within the league and scheduling them accordingly (not always easy), acquiring and retaining quality officials as no one is ever happy with the officials of any sport, learning to co-exist with BHI competing for an almost identical market as I in the same city, keeping fees as low as possible for teams but enough that I can justify pouring the time that I do into the LBHA…..I'm sure there is many more and  it's all pretty normal stuff that  I am sure any sports program/league go through but at the same time, it's all a constant work in progress and an evolution of the sport.  It's taken a little longer than I'd like to admit figuring some things out, but I consider myself to be very open minded, fair and not afraid of change so I am proud to say the LBHA has gotten over every hurtle that has been placed in-front of it.
SS: What is your proudest achievement through LBHA?
DP: Because of the LBHA I was able to begin the LMBHA with the help of some others and that is something that never existed in London until we brought it to fruition.  My parents could never afford to enroll me in any form of ice-hockey but I loved the game and would have love to have an LMBHA to play in when I was a kid.  Being able to offer that to the youth of London today is an amazing accomplishment and has brought me great joy over the years.  The first ever team of players to come out of the LMBHA and enter the adult program (LBHA) was about 4-5 years ago, they are now the London Gulls, and the top team in London and have started making waves across Ontario.  I am so proud of those kids and what they have accomplished in their young ball hockey careers and it is exciting to know there is so many more like them to come from the LMBHA in the years ahead!
SS: How have you seen the LBHA change over the years?
DP: Well, for the first 10 years I played in the London Ball Hockey league it was always an 8-12 team league that was a ton of fun to play in but never seemed to really grow or change, since becoming involved in the LBHA I have seen this program at great heights (some which may never be achieved again).  In 2011 we had a season high of 53 Adult teams which was an amazing high for us….but over the last 4 years or so we have seen our numbers hang down more around the 28-32 mark, we have gone from 2 divisions to 4 divisions of men's play, during our high we had a 7 team Masters Division which has since fallen and disappeared.  We have gone from no Ladies play to steady 13-15 team ladies league which if asked, would be my 2nd mot proudest achievement through the LBHA.  We had a short stint with having our very own Premier League team which was pretty cool.  We've gone from no one knowing we existed to the talk of the town to, "oh yeah I've heard of them!" It's been a roller coaster of emotions and success along with some failures over the years but I can confidently say that Ball Hockey in London is in a far better position than it ever was previously.
SS: What is your vision for the LBHA moving forward?
DP: Our Ladies program is thriving as is our Youth program. I'd like to see that continue and I see no reason why it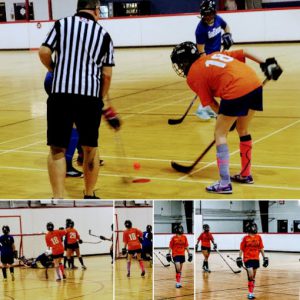 shouldn't.  I would like to see our Men's program pick up steam again and attract a larger piece of the ice hockey world and maybe our youth program will play a key part in that.  The ultimate goal would be to have a year round double pad facility of our own or that we had access to which would allow for off season growth at both Adult levels while opening the doors for the possibility of a year round youth program, start up of a new Masters program for both Ladies and Men, drop in nights for people to scrimmage in a less structured atmosphere, a co-ed program and so on and so forth.  London has a strong ball hockey community and the possibility of a far stronger one but is lacking the use of a quality year-round facility dedicated to the sport.  I envision all of that changing in the years to come.
SS: You've recently got involved in the Got Game Event in London in May.  What made your get involved with this event and what can people expect out of it?
DP: I was originally approached my Greg Matthison of Sports XPress shortly after the announcement of Play On suspending it's 2018 campaign.  I had already heard from people who I knew that I should look into taking the event over when I had heard from Greg and he seemed really keen on keeping the event going in some shape or form.  Greg arranged a meeting with Chad [Asselstine] from BHi and I to discuss if we thought there was still a demand for the tournament or not. After some consulting with Chad and I, Greg decided to jump in head first and take on the event.  Aside from some minor consulting and support I have not really had much to do with the re-branding of the event aside from some discussion about me possibly helping out with the organization and scheduling of the officials for that weekend.  In any case I wish Greg all the best with what must be an exciting time for him, and I am here to support him and his event in any way I can.
SS: How have you seen the sport of ball hockey change since you got involved?
DP: Aside from the growth with in London that I have already mentioned, I think that the biggest change I have seen in the sport over the years (within London), is the players respect for one another.  It was a Rock 'em Sock 'em style of league at times over my first 10 years or so into the sport but over the last 5-8 years of the game there has been a drastic decline in dirty stick work, hits and fighting.  The toughness is still there, especially in the top two tiers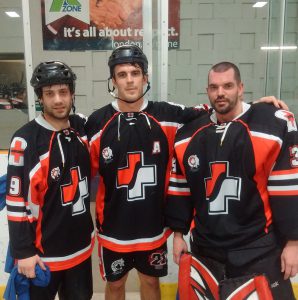 of our league, but no one is worried about getting jumped or looking over their shoulder in anticipation of a dirty hit.  Players in the LBHA seem to respect each other far more today and realize that we all have to work in the morning and have families to go home to.
SS: What would you like to see change in order to make the sport better?
DP: Strictly in terms of London, I would like Ball Hockey to lose the stigma that it's "floor hockey" or like "road hockey" and maybe this will eventually come as a result of the LMBHA and the growth of it as I have seen many youth and their parents come into the program with that mentality, and then come back the next year with a bunch of their friends telling them how great it is.  We need more quality ice hockey players willing to take ball hockey seriously and to see how it can be used as a massive asset to improving their game both on and off the ice.  The sport already has a lot of really good players who play both ice and ball or who just play ball but if we can get a larger chunk of the quality ice hockey players in the city to also play this sport, look out because it will take this already great game to a whole other level!
We'd like to thank Dick for taking the time to answer our questions, and though we'll miss him at this year's WBHF tournament, we wish him all the best in the LBHA and LMBHA.
---
For all the latest in the world of ball hockey, stay tuned to stickskillz.com, and don't forget to follow us on Facebook, Instagram, YouTube and Twitter for up to the minute developments. Want to see stories like this delivered right to your inbox? Sign up for our free monthly newsletter, the Top Cheddar right here.