The final day of the 2018 World Ball Hockey Federation (WBHF) Championship is in the bag, and it was a big one. There was some rough play going on on the floor today, as every team was hungry for their potential medal.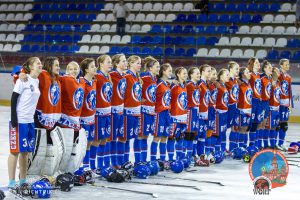 Ladies Bronze: Team Great Britain Vs. Team Czech Republic
The ladies of Team Great Britain fought hard during their rematch against Team Czech Republic. For a while it really seemed like they were going to be able to pull off the win and take home the bronze, but Team Czech Republic took the early lead and held onto it. Team Czech Republic finished off the game with a final score of 3-2. For a more comprehensive look at the game, check out Team Great Britain's wrap up of it available right HERE.
Ladies Gold: Team Canada Vs. Team Russia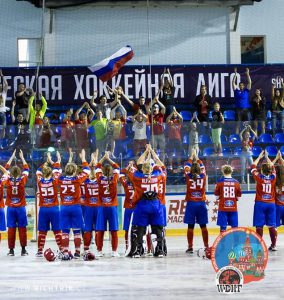 This game was very evenly played. So much so that the game was at a tie-score at the end of the third period. Russia scored early on and Canada answered right back, leaving the scoreboard reading 1-1, forcing overtime. Still, neither team was able to pull ahead during OT. Finally, it looked like Canada was going to take it when they scored during the first round of the shootout. But Russia came right back to bring the score to 2-2. Team Canada managed to get one in after that, but it was deemed a no-goal, after which Russia was able to score, winning them the gold medal in their division.
Men's Bronze: Team Europe Vs. Team Russia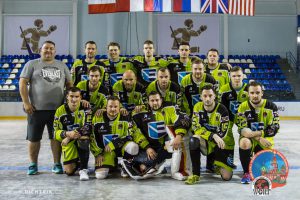 In a bit of an upset, Team Europe managed to take the win over Team Russia in their bronze
game this afternoon. Team Europe took the lead early in the first period, ending it off with a score of 2-0. Putting themselves even further ahead, they scored again at the start of the second period, which Russia would answer back to with a goal of their own. Europe was on their game though and brought the score to a comfortable 4-1 in their favour. With just seconds left on the clock, Russia scored again to close the gap a little more. We'll give it to Europe during this game, they held onto that lead for quite some time. It wasn't until the last two minutes of the game that Russia was able to score again, but it wouldn't be enough, and Europe ended the game with a final score of 4-3, winning them the bronze medal.
Men's Gold: Team Canada Vs. Team Czech Republic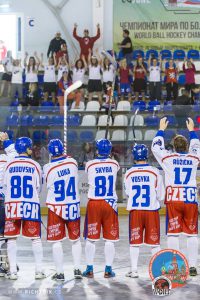 This game was a rough one. The first period was scoreless, and both teams were fighting tooth and nail to take the lead. There were penalties being tossed around left and right, and just like their first game against each other, it didn't seem like there was a moment that someone wasn't in the penalty box. You could tell that these teams had it in for one another, because things were getting aggressive on the floor.
Team Czech Republic managed to score a goal early in the second period, then follow it up quickly with another. These teams are both full of skilled players, and it showed as the ball was back and forth across the red line. The score would stay at 2-0 for the remainder of this period.
The third period is when things started to get a little crazy. Canada managed to make a bit of a comeback with a goal of their own early on, but the game started to get rough this period. Roughing penalties were being tossed around constantly, and at one point, Canada had three players in the penalty box. In what has to be one of the best plays we've ever seen, a player on Team Canada was able to get on a breakaway during a 5 on 3 and dangle the ball right into the net. It was truly an impressive sight. Unfortunately, it wouldn't be enough, as Team Czech Republic came right back with a goal of their own bringing the score to 3-2 in their favour. After this a brawl started breaking out…just not on the floor. People in the stands started to get a bit rowdy before the end of the game causing a major stoppage. For a while it really looked like Canada was going to tie it back up again, but Team Czech Republic ended up taking the win, and walking away from the tournament with gold around their necks.
This week was home to some amazing hockey, and some huge surprises. There's nothing quite like this sport when it's being played at a level such as the WBHF.
As always, stay tuned to stickskillz.com for everything ball hockey, and don't forget to follow us on Facebook, Instagram, YouTube, and Twitter for updates. Want to see stories like this delivered right to your inbox? Sign up for our free, monthly newsletter, the Top Cheddar right HERE.