2018 WGSHT Tournament Preview
One of the biggest tournaments of the year is just about to kick off, and we couldn't be more excited. It's time once again for the Walter Gretzky Street Hockey Tournament (WGSHT) in association with Breathe: The Ontario Lung Association. The tournament is going to be on all weekend, from June 1st-3rd with an appearance from the man himself, Walter Gretzky. If this year's action lives up to even half of what last years had in store, then we're in for a treat. So, who are some of the biggest teams that will be in attendance? Just read on to find out.
Youth Teams
One of the things that makes the WGSHT so special is how inclusive it is. This weekend isn't solely about competition at the highest level, it's about ball hockey and the players that love it. Celebrating one of our favourite pass-times across generations means that players young and old get to get in on the fun. There are plenty of youth games that'll be taking place during this year's tournament, from Novice to Midget, everyone's going to get a chance to play during this weekend with Wally. Youth game schedules can be found right here:
Adult Rec/Intermediate
With a staggering 48 teams competing across over fifty games in the Rec and Intermediate division, there will be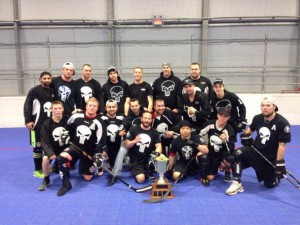 absolutely no shortage of entertainment should you choose to stop by the rink to take in some hockey. We'll admit it, with so many teams playing this weekend we don't know who's going to come out on top in either division, but we can tell you about some of the games we're excited to watch.
Rec:  Punishers @ NEE – 06/01/18 7:15PM
Having seen the Punishers play in the past, we know they can be an energetic and aggressive team under the right circumstances. This makes for some exciting spectator hockey. It's always interesting to watch how a competitor will react to this style of play and it should be a great way to kick off the division.
Intermediate: Hamilton Hustle @ Steel City Vikings – 06/02/18 10:15AM
The Hamilton Hustle swept the competition during the Rec division at last year's Weekend of Champs Tournament, so we're definitely intrigued by the thought of them playing at an Intermediate level. Not to mention, they're going up against another Hamilton team, and you know we love watching two teams from the same area facing off against one another.
Click HERE for the full Rec division Schedule
Click HERE for the full Intermediate division Schedule
Competitive
This division is packed with some of the teams that we're most excited to see this weekend. From match-ups between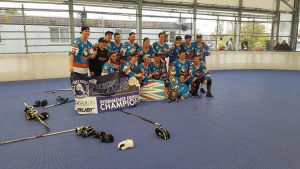 The Gulls and The Throwbacks, the Hawks and the Reapers, and even checking out some teams that we haven't seen play before, it should go without saying that the competitive level at this year's WGSHT will have some of the top talent in ball hockey right now. With some players competing at this year's World Ball Hockey Federation (WBHF) Championship in Moscow, Russia in attendance at the WGSHT, it'll be a good indicator of where their head is at before leaving the country.
For the full Competitive Division Schedule, click HERE
Ladies/Co-ed
There are quite a few teams competing in the Co-ed and Ladies divisions this year, which we're absolutely thrilled

about. Last year, we got to witness an actual marriage proposal happen right in the middle of a co-ed game, and while we can't promise that anything is going to live up to that surprise, we can guarantee that these games won't hold back any excitement. Last year, we wrote about a need to see an increased presence of women in ball hockey, so we couldn't be happier to see this many Co-ed and Ladies teams coming out to be a part of this year's WGSHT.
Click HERE for the full Ladies' division schedule
Click HERE for the full Co-ed division schedule.
---
It's almost hard to believe that this much action is packed into one weekend. Between being surrounded by games of ball hockey, and all the delicious food options, there's absolutely no better place for a ball hockey fan to be than BHi Brantford during the annual Walter Gretzky Street Hockey Tournament. If you're in the area, make sure to stop by. Can't make it? We'll be covering the event this Saturday, so make sure to follow along on Facebook, Instagram and Twitter!