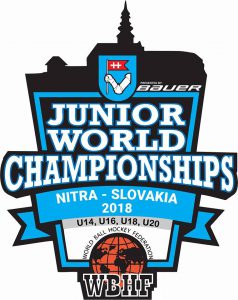 After a very competitive 5-on-5 championships a couple weeks ago, the World Ball Hockey Federation (WBHF) continues their festivities June 25-July 1, 2018 with their Junior Championships in Nitra, Slovakia.
Divisions
The WBHF Junior Championships began in 2014 and since then have expanded from just two age categories to five groupings in 2018.  New this year are the additions of the Boys U14 division and the Girls U20 division.  Coming to Slovakia will be some of the world's best youth ball hockey players in the following divisions:
Boys U14
Boys U16
Boys U18
Boys U20
Girls U20
Teams
2018 will feature hundreds of ball hockey players from all over North America and Europe competing to bring home some hardware.  Participating teams this year include:
U14 – USA, SVK, CZE, SWE, ROM, HUN, TEU, TNA
U16 – CAN, USA, SVK, CZE, HUN, ROM, TEU, RUS
U18 – CAN, USA, SVK, CZE, TEU, RUS
U20 Boys – CAN, SVK, CZE, TEU, RUS, USA
U20 Girls – HUN, SVK, CAN, CZE
Previous winners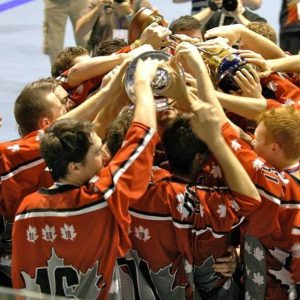 As in previous years we are expecting strong performances out of the likes of Canada, USA, Czechia, and Slovakia.  However, as we saw in the recent WBHF 5-on-5 championships, Russia cannot be ignored as a championship threat.  We are also expecting a strong showing out of Team Europe.
2016

U16 – (G) Canada, (S) US, (B) Czechia
U18 – (G) Canada, (S) Slovakia, (B) Europe
U20 – (G) Canada, (S) US, (B) Slovakia

2014

U18 – (G) Canada, (S) Slovakia
U20 – (G) Canada, (S) USA
So, if you're feeling lost without some international ball hockey competition to watch, be sure to tune into the WBHF Junior Championships beginning June 25-July 1 in Nitra, Slovakia.  At the time of writing this, live stream details have not been released by the WBHF however, we recommend you keep an eye on their Facebook Page for details closer to the kick off of the tournament.  Stick Skillz will be keeping an eye on the action, posting score and standings updates.
As always, stay tuned to stickskillz.com for everything ball hockey, and don't forget to follow us on Facebook, Instagram, YouTube, and Twitter for updates. Want to see stories like this delivered right to your inbox? Sign up for our free, monthly newsletter, the Top Cheddar right HERE.