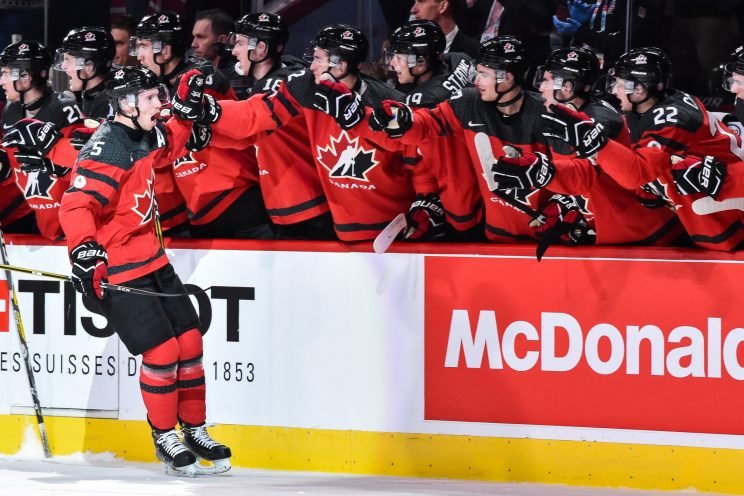 January 8th, 2017—Hamilton,ON—It's been a few days since Canada lost gold to the Americans in a shootout at the 2017 World Junior Championships.  Everyone in Canada lamented the fact that games, such as the gold medal game in an international tournament, should never be decided by a shootout.  A feeling, I'd imagine, they would not have had Canada won instead of the U.S.  We can debate 'til the cows come home about whether or not games of this magnitude should come down to a shootout.  The fact remains that both teams had 80 minutes of 5-on-5 hockey to win the game and didn't, so let's put the shootout complaints to rest.
The best thing about the World Junior Championship, other than it taking place during Christmas break, is the wealth of talent on display.  Being able to watch the future of hockey for 2 straight weeks is a victory in itself.  Each team had at least one player who really had me take notice, so rather than dissect the entire tournament, I want to highlight the players who impressed me most.
JORDAN GREENWAY, 19, TEAM USA
I raved about Jordan Greenway on The Sports Hipster Podcast last week and for good reason.  The 6'5 230lbs Canton, NY native was an absolute beast for the Americans the entire tournament.  He had 8 points in 7 games and had a knack for getting under the opponents skin just enough without taking a penalty.  Because of his size, defenders had a hard time containing him when he was driving to the net.  He used his big frame to lean on defenders and wreak havoc in the slot.  He was drafted in the second round by the Minnesota Wild in the 2015 NHL Entry Draft and he's got Power Forward written all over him.
THOMAS CHABOT, 19, TEAM CANADA
While most of the talk was centred on Team Canada Captain, Dylan Strome and NYI draft pick Mat Barzal, it was Thomas Chabot that stood out for me.  He led all defensemen in points in the tournament with 10, a total that also had him tied for the points lead on Team Canada.  More than the points total was his knack for scoring clutch goals.  He opened the scoring in the gold medal game against the U.S. then added another to give the Canadians a 4-2 lead midway through the 3rd period.  The Ottawa Senators snagged Chabot at 18th overall in 2015 and once he's finished in the QMJHL with the Saint John Sea Dogs, he'll no doubt be in the Senators top 4 come next season.
ALEXANDER NYLANDER, 18, TEAM SWEDEN
Alexander Nylander proved he's not just William Nylander's little brother at this year's WJC.  The 8th overall pick by the Buffalo Sabres in last year's draft lead the entire World Junior Tournament in points with 12 in 7 games.  He has all the makings to be an elite top 6 forward in the NHL.  There were times where he was a magician with the puck on his stick and he made a lot of defenders, including Canada's Jake Bean, look downright silly on the ice.  He's having a solid first pro season in the AHL with 17 points in 29 games and his time at this year's WJC will no doubt bolster his confidence.
KIRILL KAPRIZOV, 19, TEAM RUSSIA
Nylander wasn't alone at the top of the points leaderboard at the World Juniors, he had company in Kirill Kaprizov.  The diminutive forward had 9 goals and 3 assists in 7 games and was a threat to score every time his skates touched the ice.  At 5'9 and 185lbs, he still has some room to grow in order to compete in the NHL but the Minnesota Wild struck gold again at the draft table in 2015; selecting Kaprizov in the 5th round.
DAVID KASE, 19, TEAM CZECH REPUBLIC
The Czechs had a hard time scoring at this year's WJC so point totals don't really tell the whole story when it comes to Philadelphia Flyers prospect, David Kase.  In 5 games, Kase put up 3 points but he's got incredible skating ability and some slick hands.  He's currently playing with Chomutov Pirati in the Czech Extraliga where he has 7 points in 16 games so it'll be interesting to see how he improves once he makes the move the North America.
AAPELI RASANEN, 18, TEAM FINLAND
It was a disappointing tournament for Finland but there were a few bright spots for the Suomi, one of those being Aapeli Rasanen.  He didn't blow the doors off in terms of points, he finished with 6 points in 6 games but it was his composer with the puck that stood out for me.  A right-shooting centre, he also dominated the faceoff circle, averaging 18 draws per game and winning an impressive 67% of them.
MARTINS DZIERKALS, 19, TEAM LATVIA
The Latvians always seem to be the little engine that could at all these international hockey tournaments but they always seem to come up just short of making a real dent in the pack.  They are filled with extremely talented players, however, like Marek Mitens, Renars Krastenbergs and Martins Dzierkals.  Leafs fans should acquaint themselves quite nicely with Dzierkals, he was the Leafs 3rd round pick in the 2015 NHL Entry Draft.  He only notched 3 points in the WJC but for the past 2 years, he's been plying his trade in the QMJHL with the Rouyn-Noranda Huskies where he's been a solid points-producer.
NICO HISCHIER, 18, TEAM SWITZERLAND
I absolutely loved watching Nico Hischier at this year's WJC simply because of his high hockey IQ.  Hischier just turned 18 on January 4th, but if watched him play at the World Juniors, you would have never guessed he was there as an 'under-ager.'  He led the Swiss in scoring, almost single-handily beat the U.S. in the quarter-finals and was a dynamic skater.  Because of his birthday, he wasn't draft eligible until this year and I would be shocked if he gets taken past the 2nd round.