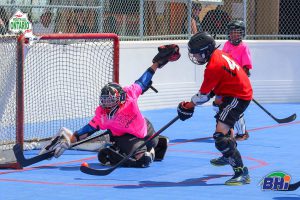 The weekend of July 22-24 saw the Youth All Ontario Cup (YAOC) bring the talent, and the heat, to Welland, ON for the July Jammer.  Temperatures were scorching but the 17 teams left it all on the floor in the name of victory.
The Welland Knights overcame a determined Cherry Pickers team to win the Midget Division Championship, 5-4.  The Knights, who didn't drop a game all tournament, were led by Nolan Lynd and his 2G and 1A and Tycie Cowan gave a valiant effort for the Pickers, putting up 3G and 1A in the final.
With only 4 teams in the division, the Bantam Championship title was hotly contested.  With little separating the teams, the Niagara Titans slugged out a 4-2 win over the Welland Rebels.  Niagara's Peyton McIntosh led the way with 1G and 2A and Damon Ford made 15 of 17 saves.  While all teams were pretty evenly matched, one player dominated the score sheet as Niagara's Carson Eden put up 10G and 4A in 5 games.
The London Kamikaze were the cream of the crop in a tough Peewee Division as they overcame a worthy opponent in the Welland Red Light Rebels to take the Championship title, 5-4.  The Kamikaze were led by Logan Ferreira's 2G and 2A while Welland's Nik Canjar put up a pair of goals in a losing effort.  London was definitely the team to beat as they had 3 players, Matt Dixon, Matthew Szabo and Ferreira, finish the tournament with double-digit points.  Be sure to check out the Weekend of Champs Tournament taking place August 12-14 in Brantford, ON