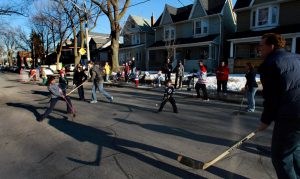 In Canada, hockey is a year-round pastime. Though sports such as soccer, basketball and tennis have gained popularity over the years, hockey remains a staple of our Canadian identity.  When I was growing up, all the neighbourhood kids would gather after school and on the weekends to play street hockey; just like how it's depicted in the movies.  It didn't matter how good or bad we were or even if we had the proper equipment, all we wanted to do was play.  These days, there aren't many ball hockey games being played in the streets of Toronto, thanks in large part to a city bylaw which prohibits it.
The bylaw, which became a single Traffic and Parking Municipal Code on January 1st, 1998, states there is to be "no playing sports or engaging in other activities such as rollerblading or skateboarding on any public roadway in the city.  Driveways are exempt."  The main way this bylaw is enforced is by private residents who call the City and lodge a complaint.  The set fine for violating the bylaw:  A $90 ticket.  Not only is this bylaw eroding part of our Canadian identity, it's also preventing kids from getting outside and getting off their phones and iPads.
Toronto councillor Christin Carmichael Greb is hoping city council will make amendments to the bylaw when they meet this week to discuss the issue.  She's hoping Toronto will follow the lead of Kingston, which permits road hockey to be played on local streets with a speed limit of 50 km/h or less, between 9 a.m. and 8 p.m. — as long as there's good visibility.  All equipment and nets must be cleared from the streets once play ends or by the 8 p.m. cutoff and players must keep respectable noise levels.  These changes could go a long way in re-introducing kids to sport and getting them to be active.  Organized sports, especially hockey, can be costly and not all families are able to afford enrolling their kids in various leagues; that makes being able to play outdoors, for free, all the more important.
Organizations such as the Canadian Ball Hockey Association (CBHA) have helped keep the game alive.  The CBHA was founded in 1977 and now has leagues spread all over country for men, women and kids.  It's an affordable way to get kids involved and keep active but there's something about the spontaneity of getting your friends together and playing a game of street hockey, pretending to be McDavid or Matthews and yelling, "car!"  It's time to overturn this ban and bring the games back to the streets.